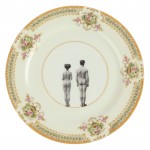 Tired of people tweeting what they're about to eat? Well, according to the NYTimes, so are high-end restauranteurs.
When it comes to people taking photographs of their meals, the chef David Bouley has seen it all. There are the foreign tourists who, despite their big cameras, tend to be very discreet. There are those who use a flash and annoy everyone around them. There are those who come equipped with gorillapods — those small, flexible tripods to use on their tables.

There are even those who stand on their chairs to shoot their plates from above.

"We get on top of those folks right away or else it's like a circus," Mr. Bouley said.
Just for the record, I'm having tea and toast with home-made marmalade at the moment. Not worth a photograph.