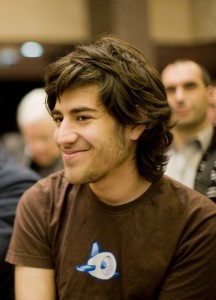 Aaron Swartz, one of the most gifted and interesting lads I've ever encountered, has committed suicide at the age of 26. At the moment, nobody knows why, but the obvious suspicion is that it might have had something to do with the fact that he was being prosecuted by the U.S. Attorney for Massachusetts for "wire fraud, computer fraud, unlawfully obtaining information from a protected computer, and recklessly damaging a protected computer, in relation to downloading roughly 4 million academic journal articles from JSTOR". If convicted, he would have faced a potential prison term of up to 35 years and a fine of up to $1 million. His motive for doing this was his belief — shared by many of us — that scholarly publications should be in the public domain.
All suicides are complicated and it's possible that Aaron's reasons may have been unconnected with the prosecution. But whatever the explanation, the fact is that the world — and the Internet — has lost one of its best and brightest stars. If you've never heard of him and wonder what the fuss is all about, then I suggest that this post from his blog will give you some idea of why we mourn his loss.
May he rest in peace.
LATER: Lovely obit by his friend Cory on BoingBoing.