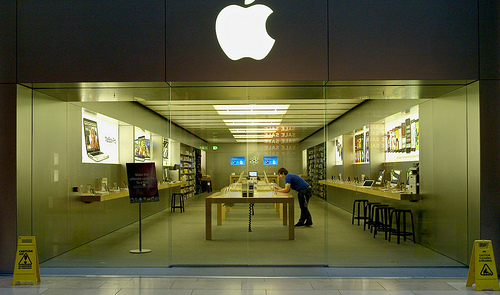 (Flickr version here.)
From today's New York Times.
The company said net income in the quarter that ended March 31 rose 90 percent, to $3.07 billion, or $3.33 a share, from $1.62 billion, or $1.79 a share, a year earlier, after adjustments for an accounting change. Revenue rose 49 percent, to $13.5 billion, from $9.08 billion, after adjustments.

On average, analysts had expected Apple to report net income of $2.45 a share on revenue of $12 billion.

The company said its gross profit margin rose to 41.7 percent, from 39.9 percent a year earlier.

Apple's stock stood at $244.59 at the close of regular trading. After the company announcement, its shares rose to around $257 in after-hours trading.
As of this morning, Apple's market cap was $235.1 billion. For comparison, Google's is $176.3 billion and Microsoft's is $274.8 billion. Dell is valued at $33.61 billion. Makes you think, doesn't it?