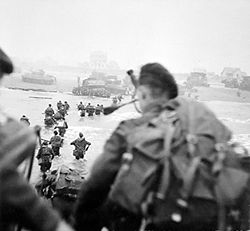 Lovely Economist obit of Bill Millin, the man who invaded Normandy with bagpipes.
His playing had been planned as part of the operation. On commando training near Fort William he had struck up a friendship with Lord Lovat, the officer in charge of the 1st Special Service Brigade. Not that they had much in common. Mr Millin was short, with a broad cheeky face, the son of a Glasgow policeman; his sharpest childhood memory was of being one of the "poor", sleeping on deck, on the family's return in 1925 from Canada to Scotland. Lovat was tall, lanky, outrageously handsome and romantic, with a castle towering above the river at Beauly, near Inverness. He had asked Mr Millin to be his personal piper: not a feudal but a military arrangement. The War Office in London now forbade pipers to play in battle, but Mr Millin and Lord Lovat, as Scots, plotted rebellion. In this "greatest invasion in history", Lovat wanted pipes to lead the way.

He was ordering now, as they waded up Sword Beach, in that drawly voice of his: "Give us a tune, piper." Mr Millin thought him a mad bastard. The man beside him, on the point of jumping off, had taken a bullet in the face and gone under. But there was Lovat, strolling through fire quite calmly in his aristocratic way, allegedly wearing a monogrammed white pullover under his jacket and carrying an ancient Winchester rifle, so if he was mad Mr Millin thought he might as well be ridiculous too, and struck up "Hielan' Laddie". Lovat approved it with a thumbs-up, and asked for "The Road to the Isles". Mr Millin inquired, half-joking, whether he should walk up and down in the traditional way of pipers. "Oh, yes. That would be lovely."

Three times therefore he walked up and down at the edge of the sea. He remembered the sand shaking under his feet from mortar fire and the dead bodies rolling in the surf, against his legs. For the rest of the day, whenever required, he played. He piped the advancing troops along the raised road by the Caen canal, seeing the flashes from the rifle of a sniper about 100 yards ahead, noticing only after a minute or so that everyone behind him had hit the deck in the dust. When Lovat had dispatched the sniper, he struck up again. He led the company down the main street of Bénouville playing "Blue Bonnets over the Border", refusing to run when the commander of 6 Commando urged him to; pipers walked as they played.
Millin also played at Lovat's funeral in 1995.