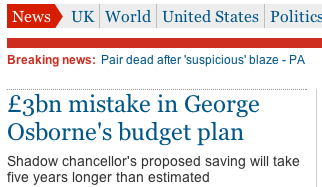 Damn! The country needs a new government and it turns out that the only possible contenders under our daft electoral system are this crowd of old-Etonian amateurs.
The National Institute of Economic and Social Research (NIESR) said the shadow chancellor's proposed saving, outlined at the Conservative party conference this week, would take five years longer than estimated and fall £3bn short.

NIESR said Osborne's team had made a mistake in their calculations, misreading a paper written by the thinktank earlier this year. Osborne's aides originally based their calculations on a NIESR document in the House of Commons library. After his speech the thinktank sought clarification of his assumptions. It has recalculated the figures and will present them at a conference on Monday.
Mind you, we've known this for a while. A year ago they misread the banking crisis almost as comprehensively as John McCain.