Provence, sans eau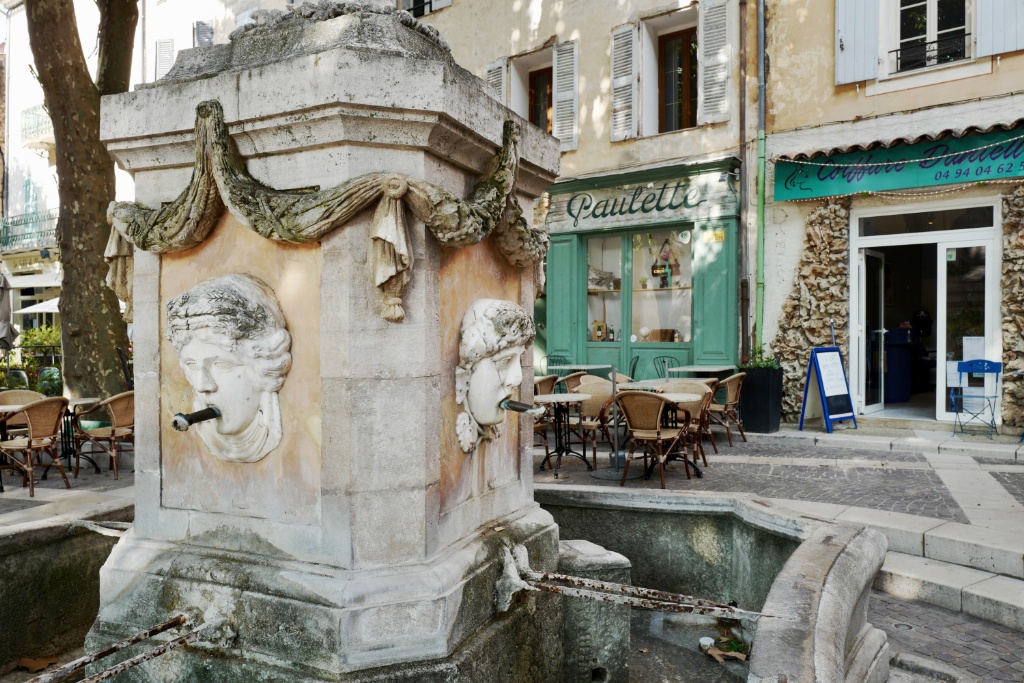 Normally, this fountain provides endless amusement for kids on a hot day. But not at the moment: Provence, like many other places around the world, is short of water.
---
Quote of the Day
A great way to understand yourself is to seriously reflect on everything you find irritating in others."
---
Musical alternative to the morning's radio news
Mark Knopfler | Telegraph Road | Dijon 2013
---
Long Read of the Day
'Why I might have done what I did': conversations with Ireland's most notorious murderer.
Riveting. And see below for a review of the book.
---
Edward Fredkin, RIP
A remarkable computer scientist has passed away at the age of 88. He had an astonishing life and career which is nicely chronicled in a very good NYT obit. It includes this remarkable photograph of four central figures in the history of computing.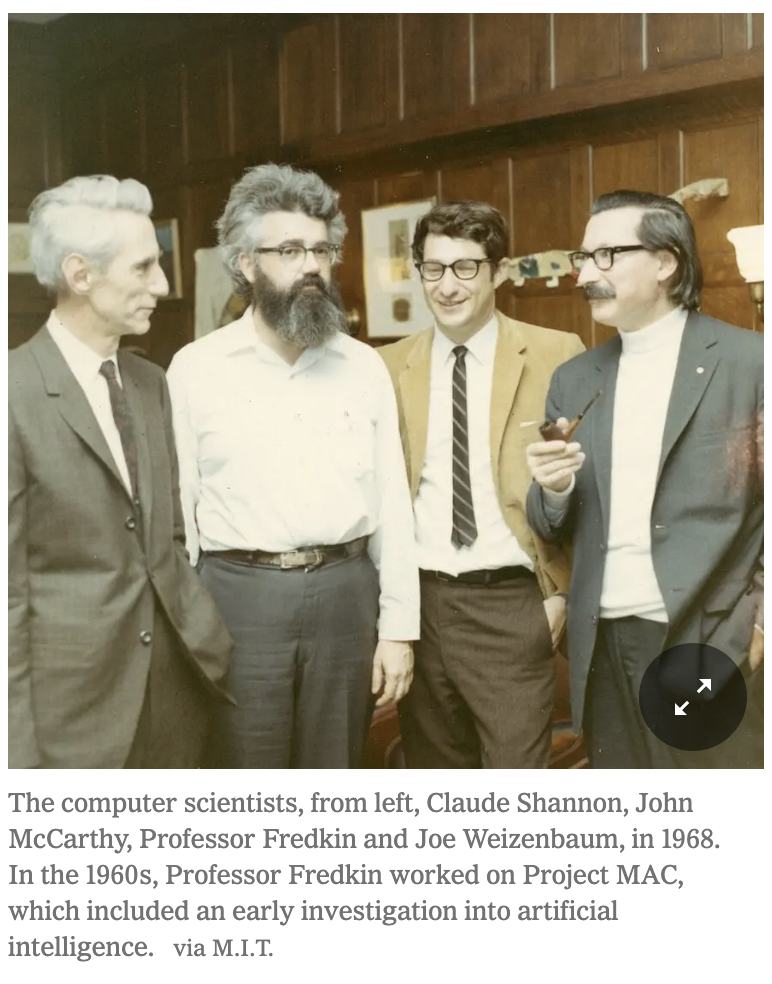 ---
Books, etc.
Killer in a cravat
Nice review by Ruth Dudley Edwards of Mark O'Connell's A Thread of Violence: A Story of Truth, Invention, and Murder, a biography of a double murderer who was once at the centre of a political scandal in 1980s Ireland.
'And so it was that, on the evening of August 4, 1982,' writes Mark O'Connell halfway through this gripping portrait of double killer Malcolm Macarthur, 'the Irish government's most senior legal official had his housekeeper prepare the spare room for his friend, a man who had just days previously murdered two strangers, and who had that very evening botched an armed robbery at the home of an acquaintance.'

The police arrested Macarthur at the flat nine days later. The morning after, the innocent and bewildered attorney general, Patrick Connolly, having cleared it with the police and Charles Haughey, the Taoiseach, set off for a long-planned holiday in New York. The story had broken by the time he arrived. Ireland was in uproar and Connolly was hounded by reporters (the New York Post would run the headline 'Irish Biggie Flees Here After Slay Scandal'). Haughey summoned him back to Dublin, where he resigned from the tottering government. Haughey described it as 'a bizarre happening, an unprecedented situation, a grotesque situation, an almost unbelievable mischance'. Haughey's merciless enemy Conor Cruise O'Brien shuffled his adjectives to create the acronym by which the murders are still known: GUBU.
Hmmm… Interesting. I just might have to buy the book.
---
If Threads is the final nail in Twitter's coffin, where will the hacks and politicos go?
My column in yesterday's Observer:
the hucksters are still staying away. As of February this year, more than half of Twitter's leading 1,000 advertisers before the acquisition had stopped advertising on the platform. And, according to the New York Times, Twitter's US advertising revenue for the five weeks from 1 April to the first week of May was $88m, which is 59% lower than a year earlier. All of which makes it tempting to interpret what's happening to Twitter as the beginning of a death spiral.

Coupled to this is the fact that increasing chaos on the platform has led to an exodus to a range of services such as Mastodon, Reddit, Discord, LinkedIn, Substack's Notes and the invite-only Bluesky Social, a Twitter-like platform developed by Jack Dorsey (a co-founder of Twitter) – and, from last week, Instagram Threads, courtesy of Meta. It goes without saying that all these alternatives have pros and cons: all have some Twitter-like features, but none of them looks to me like a proper replacement for it. And Meta's product comes with the company's usual comprehensive surveillance.

In that respect, the most significant thing about the exodus is that there is one particular class of user who doesn't seem to have joined it – professional journalists and politicians, for whom Twitter seems to remain an absolutely must-have service…
Do read the entire piece.
---
Dangerous metaphors
I'm fascinated by metaphors and often use them as a way of introducing unfamiliar ideas to an audience. But they can sometimes be both convincing and dangerously misleading, as this example from the Johnson column in The Economist nicely illustrates.
Some metaphors are more persuasive—and more dangerous. Take the metaphor of a "deal". Typically, if a deal is rejected, the status quo ante obtains, notes Anand Menon of King's College London. Brexiteers believe that, to get a better "deal", Britain should just stay cool and be willing to walk away. "No deal is better than a bad deal," some claim.

That would be true if Brexit were like buying a second-hand car. You size up the vehicle, hoping not to spend all of the £5,000 in your pocket. But the dealer wants the lot. You walk away; he still has his car, you still have your £5,000. But this is not the case with a no-deal Brexit. Supply lines, trade links and more would be disturbed. You don't keep the £5,000. You end up with less—and no car. Which, metaphorically speaking, is what has happened to the UK.
---
My commonplace booklet
On Friday I reported on my jaundiced reaction to Meta's Twitter-clone, Threads.
Jason Gilbert had a more eloquent reaction. Using Threads was, he said, "Like a $19 turkey sandwich at an airport".
Warming to the topic, he says…
Threads feels like when a local restaurant you enjoy opens a location in an airport.
It feels like a Twitter alternative you would order from Brookstone.
It feels like if an entire social network was those posts that tell you what successful entrepreneurs do before 6AM.
It feels like watching a Powerpoint from the Brand Research team where they tell you that Pop Tarts is crushing it on social.
It feels like Casual Friday on LinkedIn.
On the other hand…
My friend Charles Arthur, who's one of the most perceptive tech critics I know, had a different reaction.
On Wednesday night UK time, working late, I installed the Threads app on my phone, found it had signed in to my personal Instagram account, and went to bed. At 7am on Thursday morning, when the Do Not Disturb setting turned off automatically, my Apple Watch started making occasional BOINGG noises. Usually those mean some sort of news story, so I dozed on. But the noises kept on coming, and eventually I thought something worth investigating must be happening. Turned out that Threads was sending a notification to my Watch every time someone started following me. And they were doing so with a surprising regularity and intensity.

So I opened the app in my befuddled state and took a look at what was going on. And there I saw something that I hadn't seen for absolutely ages; for years and years, in fact. I scrolled and scrolled, and there was one emotion on show: people were happy. They were making jokes, laughing in text. The screen was full of joy.
His view is that because Instagram has a billion users, and Threads is hooked into that, its arrival means that Twitter is now in terminal trouble.
Here's how Charles sums it up:
It was like that all over the place. People were delighted to have somewhere new to use where everyone already seemed to be there. Apparently there were 30 million signups within the first few hours, and by the end of its first day there were 95 million posts. That's a lot of happiness. Because Threads seems, despite its rudimentary state (no bookmarking, strange URL structure, no content search, algorithm-only timeline), to have all the things people want from Twitter, but without, well, being Twitter.
What it comes down to, I suppose, is that some people like social media and some can't abide it. And I'm in the latter camp.
---
Linkblog
Some things I noticed, while trying to drink from the Internet firehose.
---
This Blog is also available as an email three days a week. If you think that might suit you better, why not subscribe? One email on Mondays, Wednesdays and Fridays delivered to your inbox ay 6am UK time. It's free, and you can always unsubscribe if you conclude your inbox is full enough already!
---