Master of the Universe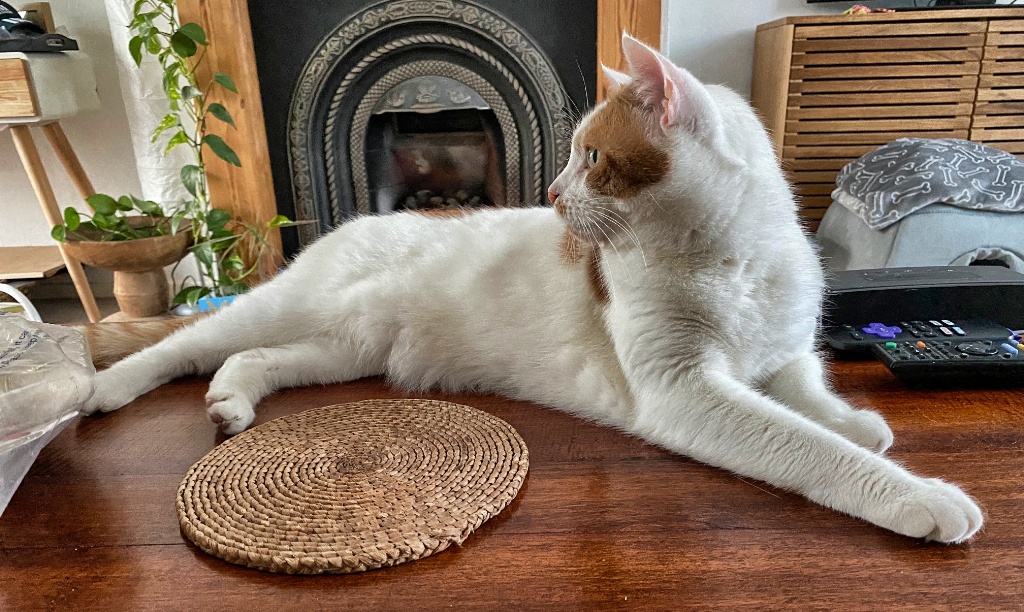 This handsome specimen is a cat we looked after for a couple of days last week when his so-called 'owners' (i.e. servants) were away. He is living proof that P.G. Wodehouse was right about cats.
---
Tweet of the Day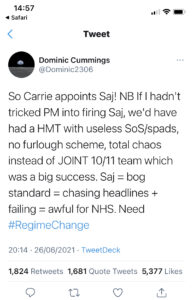 See Marina Hyde's column — linked below.
---
Quote of the Day
"So boring you fall asleep halfway through her name."
Alan Bennett on Arianna Stassinopoulos
She was an undergraduate at Cambridge in my time, and boy, was she a pain.
---
Musical alternative to the morning's radio news
Ruth Moody with Mark Knopfler | Pockets
---
Long Read of the day
The untold story of the big boat that broke the world
Intriguing Wired story of what happened to the ship that blocked the Suez Canal.
Outside, the Egyptian sun slowly simmers cargo headed for the UK and Germany, as well as trains destined for central and eastern Europe – wiring, lawnmowers and gazebos which will one day be bound for assembly lines, supermarket shelves and homes across the continent. Alongside surgical gowns, wheelchair parts and sun loungers, there's also plenty of food: tea leaves, lemons and tofu all rot away in the heat. None of it can be offloaded.

This is the Ever Given, the same ship that launched a thousand memes when it got stuck across the Suez Canal on March 23 and held up nearly $60 billion of trade. It took a week of tugs, dredging and a crack team of salvage experts to free the 220,000-tonne megaship. As the Ever Given set sail once more, horns blared out in triumph. Yet its next unscheduled stopover lay just 30 kilometres away in Great Bitter Lake where it was towed for a seemingly routine inspection. It's been anchored there ever since.

The vessel is stuck once more – this time by an almighty international legal row.
Great read.
---
Marina Hyde on Hancock's Half Hour
As usual, she's spot on:
Sorry, but the only thing I want to see Matt Hancock doing against the back of his office door is sliding down it with his head in his hands. But he can probably bank on not being sacked by Boris Johnson for having an affair. It would be like being sacked by Stalin for being slightly arsey to work with.

Even so, Hancock will be glad that the British Antarctic Territory has been added to the green list, just as he's been added to the shit list. The South Pole suddenly looks well worth packing his bags for. Temperatures are currently minus 87 but feel like minus 108, making it considerably less frosty than any of Matt's current climes.

That said, if Hancock does end up being resigned for this, it would fit with the general twilight mood in the UK's national story. Nothing says "country that's going to make a massive success of itself'" like a guy getting away with contributing to tens of thousands of unnecessary deaths but having to quit for a knee-trembler. It's like getting Al Capone for snogging.
What a columnist!
---
Memo to corporate leaders post-Covid: the disruption to businesses has only just begun
My column in yesterday's Observer:
The problem with having had the fast-forward button suddenly propel us into an unexpected place, though, is that we find ourselves unmoored. We start wondering about what lies ahead as the immediate threat of the virus recedes. What will our post-pandemic future be like? In relation to work, three main possibilities are currently taking up all the airtime: continuing to work from home (WFH); a hybrid mode in which we spend some time in the office but also two or three days WFH; and a return to ye olde days commuting to the office to gather round the water cooler and pretend to be doing something useful.

In a remarkable essay published a few days ago, first as a long blog post entitled Creating the Future of Work and later as an engaging Tweetstorm, Stephen Sinofsky, a former senior Microsoft executive, argues that if these are the only options under consideration then we have gravely underestimated the industrial significance of the pandemic. Of course the nature of work will have been changed by what has happened. But what is more significant, he contends, is that the shock will also reshape the nature of the corporations in which most of us work. The problem is that most of the people who run large organisations and corporations haven't twigged that yet…
Do read the whole thing.
---
Other, hopefully interesting, links
Cat who family thought had been cremated turns back up at home Link
Michigan boat captain finds message in a bottle after almost a century Link
---
This blog is also available as a daily email. If you think this might suit you better, why not subscribe? One email a day, Monday through Friday, delivered to your inbox at 7am UK time. It's free, and there's a one-click unsubscribe if you decide that your inbox is full enough already!
---