Blossoming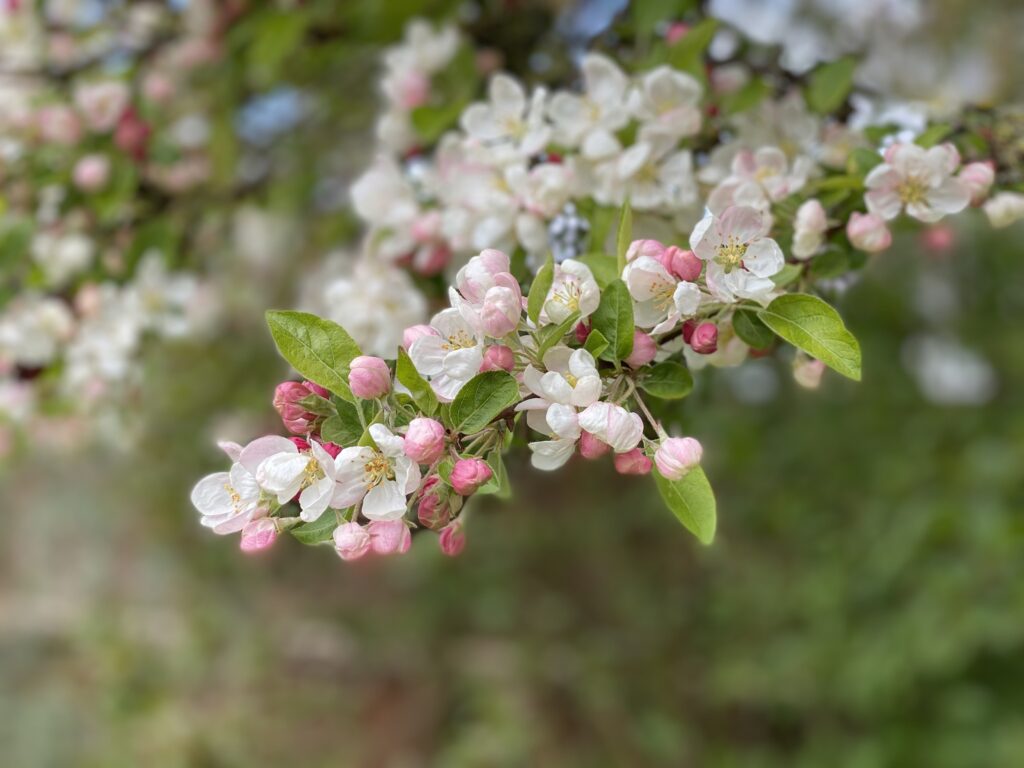 Our apple tree, yesterday.
---
Quote of the Day
"Silly, snobbish, lecherous, tipsy, given to high-flown sentiments and more than a little of a humbug; he needed Johnson as ivy needs an oak."
Cyril Connolly on Thomas Boswell, Samuel Johnson's biographer.
---
Musical alternative to the morning's radio news
Jeanine De Bique | Handel's Messiah | 'Rejoice greatly' | BBC Proms
Wow!
---
Long Read of the Day
Tinkering and thinking
Lovely reflective essay by Venkatesh Rao, who's gone back to tinkering with electronics kit.
As I was tinkering, I was idly wondering about whether there was any fodder for blog posts in what I was up to. I don't mean Maker posts. A lot of people write about Maker stuff, and do it a lot better than I ever could. I mean riffs on Life, the Universe, and Everything inspired by tinkering with a new power supply.

Most of my writing to date has been inspired by things like working in an office, consulting, watching TV and of course, reading words written by others. That stuff is good fodder for riffs on Life, the Universe, and Everything.

Though I'm having a lot of fun rediscovering engineering with a middle-aged mind, I've found it surprisingly difficult to mine tinkering for insights on Life, the Universe, and Everything. Tinkering In, Words Out, TIWO, is a tougher transformation than SIWO: Symbols In, Words Out. Which is why it's an interesting challenge.
---
ARM needs a helping hand from Boris Johnson
My column in yesterday's Observer:
Last September, Nvidia, the American manufacturer of graphics processing chips, and the Japanese company SoftBank announced an agreement under which Nvidia would acquire the British chip designer Arm from SoftBank for $40bn. Since SoftBank had acquired Arm in 2016 for $32bn, you could say that a 25% profit on a five-year investment isn't to be sneezed at, especially if industry mutterings about SoftBank's crackpot investment strategy and Arm's internal difficulties with its China-based operation are to be believed.

But even if one were foolish enough to sympathise with SoftBank's desire to climb out of the hole it had dug for itself, the idea that Arm should be sold to a US chip manufacturer is so daft that even Boris Johnson's administration had begun to smell a rat. And so on Monday it announced that the secretary of state for digital, culture, media and sport was "intervening in the sale on national security grounds", based on advice received "from officials across the investment security community". To which decision the only possible response is: what took him so long?
---
"Would you like to see my ventilators?"
Marina Hyde on Boris Johnson's se…, er, textual, addiction . Sample:
Are we even totally sure the individual on the other end of Johnson's text exchange is the actual hand-dryer genius James Dyson? It might just be a pseudonym for whichever tech mompreneur/concert trombonist/basic Rixo-shopping Sloane is currently keeping Johnson on the boil. I mean, MAYBE it's a chat about respiratory aids, but maybe it's just some mad sex code. Roughly speaking, the following is what we're dealing with. Dyson, or rather "Dyson": "Would you like to see my ventilators?" Johnson, panting in whatever broom cupboard in which he's skiving off a Cobra meeting: "Oh God yes show me your ventilators." "Sadly," replies "Dyson", "you need to remove the tax barriers to see them." "I will fix it tomo!" judders the desperate Johnson. Say it. Say it. "JAMES I AM FIRST LORD OF THE TREASURY." There you go. Better out than in.

The only statement from Downing Street this week that I actually believe is the denial that cabinet secretary Simon Case ever told Johnson to change his phone number, the PM apparently having had the same one for more than a decade. Very wise advice. That phone's like the ghost containment grid from Ghostbusters. If you switch it off, extremely bad things will happen. Even if he's as mediocre a yes-man as he appears, Case will surely have worked out that the phone is basically the safest repository for innumerable entities who are best "managed" rather than fully ghosted. Attempting to shut down the phone completely could result in a vast release of potentially fatal psychokinetic energy to the Sunday newspapers.
Do read the whole thing.
---
Exclusive!!! Dominic Cummings discovers ethics and the need to respect Parliament!
From his blog:
Re the flat. The Prime Minister's DOC (Director of Communications) has also made accusations regarding me and leaks concerning the PM's renovation of his flat. The PM stopped speaking to me about this matter in 2020 as I told him I thought his plans to have donors secretly pay for the renovation were unethical, foolish, possibly illegal and almost certainly broke the rules on proper disclosure of political donations if conducted in the way he intended. I refused to help him organise these payments. My knowledge about them is therefore limited. I would be happy to tell the Cabinet Secretary or Electoral Commission what I know concerning this matter.
…
The proper way for such issues to be handled is via an urgent Parliamentary inquiry into the government's conduct over the covid crisis which ought to take evidence from all key players under oath and have access to documents. Issues concerning covid and/or the PM's conduct should not be handled as No10 has handled them over the past 24 hours. I will cooperate fully with any such inquiry and am happy to give evidence under oath. I am happy for No10 to publish every email I received and sent July 2019-November 2020 (with no exceptions other than, obviously, some national security / intelligence issues).
(Emphasis added)
Interesting. Would this be the same Dominic Cummings who contemptuously refused to appear before the House of Commons Digital, Culture, media and Sport Select Committee inquiry into fake news and the Cambridge Analytica scandal?
---
This blog is also available as a daily email. If you think this might suit you better, why not subscribe? One email a day, Monday through Friday, delivered to your inbox at 7am UK time. It's free, and there's a one-click unsubscribe if you decide that your inbox is full enough already!
---