Sloe gin anybody?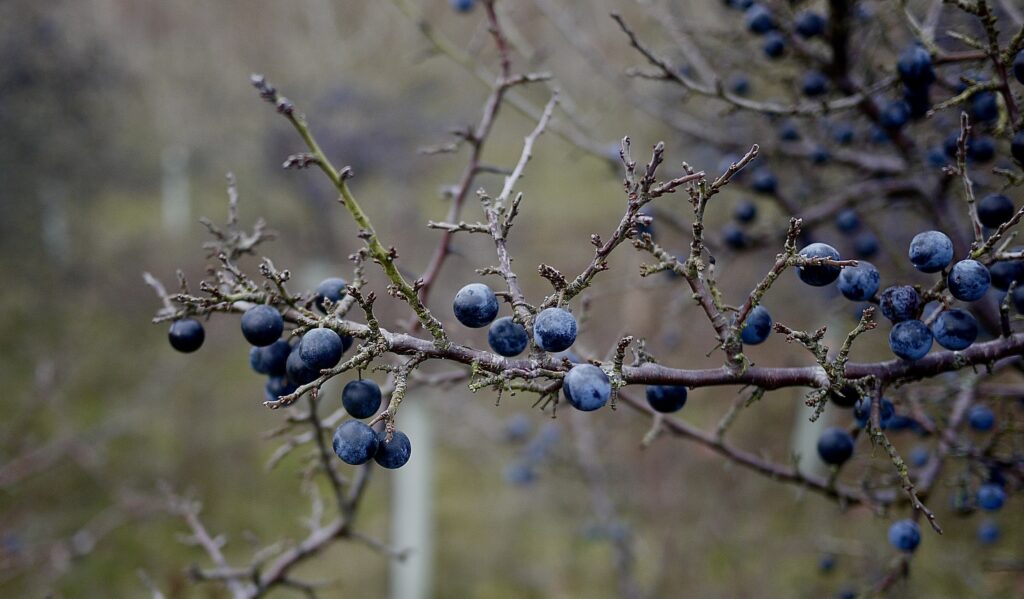 Seen on a walk today. Some people make gin with these.
---
Quote of the Day
"Cummings is not an evil genius, he is ultimately a tragic figure. He embodies everything wrong with the Westminster political elite. He is an oddball, entirely self obsessed and egoistical, thinking he is smarter than everybody else while knowing next to nothing beyond a superficial waffle. He bluffed his way to the most powerful unelected position in Britain. In the process he duped us all, damaged the perception of the U.K. on the world stage, and nearly derailed the premiership of the most popular Tory PM since Churchill. One day he himself will admit it — it was all BS."
An unnamed Downing Street adviser speaking to Politico on Day One A.D. (after Dom)
That bit about "the most popular Tory PM since Churchill" is baloney IMHO.
---
Musical alternative to the morning's radio news
Haydn Cello Concerto in C (3rd movement)
---
Long read of the Day
More than tools: who is responsible for the social dilemma?
Perceptive essay by Niall Docherty on the documentary film about the impact of social media.
---
Biden's transition team is packed with folks from the tech industry
This from Protocol doesn't necessarily bode well for anyone hoping that a Biden election might mean doing something about the tech giants.
Here's the list of people from big-name tech companies:
* Tom Sullivan, Amazon's international policy team (State Department)
* Mark Schwartz, Amazon Web Services' enterprise strategist (Office of Management and Budget)
* Divya Kumaraiah, Airbnb's strategy and program lead for cities (Office of Management and Budget)
* Brandon Belford, Lyft's senior director and its public policy team's chief of staff (Office of Management and Budget)
* Nicole Isaac, LinkedIn's senior director of North America policy (Treasury Department)
* Will Fields, Sidewalk Labs' senior development associate (Treasury Department)
* Clare Gallagher, Airbnb's partnerships & events manager (National Security Council)
* Matt Olsen, Uber's trust and security officer (Intelligence Community)
* Arthur Plews, Stripe's strategy and operations lead (Small Business Administration)
* Ted Dean, Dropbox's public policy lead (U.S. Trade Representative)
* Ann Dunkin, Dell's chief technology officer (Environmental Protection Agency)
* Phillip Carter, Tableau Software's senior corporate counsel (Department of Veterans Affairs)
* Nairi Tashjian Hourdajian, VP of comms at Figma (Department of Transportation)
* Nicole Wong, former Google and Twitter, former Obama Deputy Chief Technology Officer (Office of Science and Technology Policy)

There is one consolation — there's nobody from Facebook. But overall it looks suspiciously as though ye olde revolving door — the process of regulatory capture — is spinning vigorously. I hope I'm wrong.
---
Other, hopefully interesting, links
How to Shop for a Mechanical Keyboard. Sounds daft, but actually very informative. Keyboards really matter if you have to use a computer all the time. Link.
Can the bike boom keep going? From Bloomberg. Link.
How I knew that the internal combustion engine was dead. Ford have released an all-electric Transit van. White Van Man will never be the same again. Link
---
This blog is also available as a daily email. If you think this might suit you better, why not sign up? It's free. One email a day, delivered to your inbox at 7am UK time. And there's a one-click unsubscribe if you decide that your inbox is full enough already!
---