The Virus: we're not even at the end of the beginning yet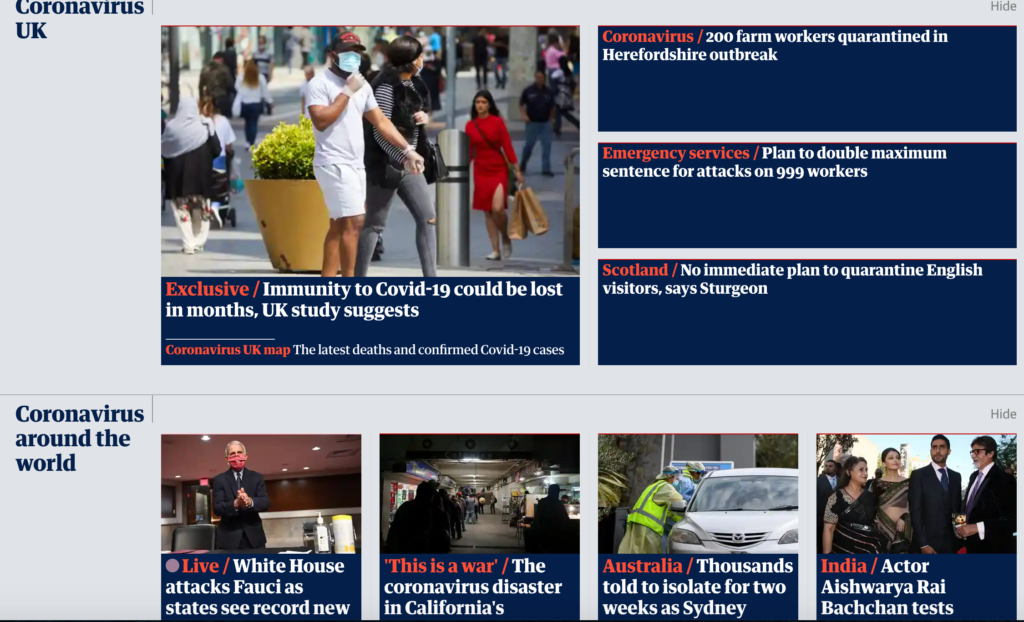 How long will it take this penny to drop? This thing isn't going away. We're not even at the end of the beginning of this story. No return to anything resembling 'normal' is remotely possible for several years — at best. And although some countries currently have a fragile grip on the disease, they're all going to be playing whack-a-mole until after a vaccine is available and distributed.
As for the countries where it's raging out of control, then a 1918-type scenario seems inevitable for them.
Sigh.
---
An apology to non-UK readers
I'd forgotten that the link to the BBC iPlayer version of the BBC TV programme about the Kanneh-Mason family is only accessible to people located in the UK. (I guess because the BBC is funded by a tax paid by UK subjects.) It must have been annoying to have me describe something as "unmissable" (and I meant that) when you were unable to access it. I'm hoping that the BBC eventually releases it for a worldwide audience, but in the meantime I hope that the Corporation's description of the programme will give you some idea of its content:
In its first remote-access film, imagine [a BBC cultural documentary series] offers a unique and intimate portrait of an exceptionally gifted musical family in lockdown – the Kanneh-Masons. In 2016, cellist Sheku Kanneh-Mason won BBC Young Musician award. In 2018, he released his debut album, and earlier this year his second album, Elgar, became a top ten hit. He achieved global fame when he performed solo at the wedding of the Duke and Duchess of Sussex in 2018 in front of a TV audience of two billion people worldwide.

But it doesn't stop there. His six siblings are also phenomenally talented musicians: three are former BBC Young Musician category finalists, and the eldest sibling, pianist Isata, has also presented for the Proms. Ever since lockdown began, the seven young prodigies, all aged between 10 and 24, have been isolated in their family home in Nottingham along with their parents, Stuart and Kadiatu, and Sheku and Braimah's flatmate, fellow Royal Academy of Music student Plinio Fernandes. Unable to perform publicly, the family decided to stage a vibrant and eclectic concert in the only place they can – their own home – and granted the BBC exclusive access using remotely operated fixed-rig cameras, with video messaging to capture interviews. Exploring both the family's music making and their family life, the programme culminates in a moving concert that is a testament to the power of music to carry us through the most difficult of times.
---
Privacy isn't property: it's a human right
Fine post by Hayley Tsukayama on wrong-headed legislative moves to value the personal information that surveillance capitalists extract and monetise.
Proposals to place a concrete dollar value on data and, by extension, on our privacy, have popped up across the country this year. Sens. Mark Warner (D-Va.) and Josh Hawley (R-Mo.) last month introduced the "Designing Accounting Safeguards to Help Broaden Oversight and Regulations on Data," or DASHBOARD Act. It would require larger companies to report the value of customer data. Rep. Doug Collins (R-Ga.) recently proposed a bill to recognize consumer data as property. Companies pushed a bill with a similar concept in Oregon, which the ACLU of Oregon and EFF opposed, to directly pay people for the "value" of their health data as calculated by companies.

Assigning a value to your personal information might appear attractive, at first blush. Companies have grown rich off the insatiable collection of our personal information. It is tempting to demand a cut of the money they make from our clicks, our likes, and our networks of contacts.

But this is a mistake. If anything, assigning a dollar value may give the false impression that, at a value of $5, $30, or $200 for your personal information, the data collection companies' conduct is no big deal. But a specific piece of information can be priceless in a particular context. Your location data may cost a company less than a penny to buy, yet cost you your physical safety if it falls into the wrong hands. Companies advertised lists of 1,000 people with different conditions such as anorexia, depression and erectile dysfunction for $79 per list. Such embarrassing information in the wrong hands could cost someone their job or their reputation.

Our information should not be thought of as our property this way, to be bought and sold like a widget. Privacy is a fundamental human right. It has no price tag. No person should be coerced or encouraged to barter it away. And it is definitely not a good deal for people to receive a handful of dollars in exchange for allowing companies' invasive data collection to remain unchecked.
Yep.
---
How Tesla works
Absolutely fascinating article by Philippe Chain on how Tesla differs from traditional automobile manufacturers.
Sample:
At the time we launched the Model S, there were only two layers below Elon. Later when I joined Audi to build the e-tron, I was dealing with four hierarchical levels just for the engineering department, supplemented by two other echelons above. In short, we are talking of at least a 3 to 1 ratio. As a result, Tesla moves incomparably faster than Audi for instance. Where the Model 3 took 3 years in development, it would have been the customary 60 months time frame at Audi.

The intensity of the workload at Tesla leads to higher turnover among executives and engineers. With a 27 percent replacement rate, it is even higher than in prominent startups like, for instance, Lyft (23 percent). And for Elon Musk's direct reports the turnover hit a record of 44 percent last year, according to Alliance Bernstein tech analyst Toni Sacconaghi. We used to say that a year at Tesla equals seven years elsewhere, just like "dog years".
Moral: don't work at Tesla if you want a quiet life.
---
This blog is also available as a daily email. If you think this might suit you better, why not subscribe? One email a day, delivered to your inbox at 7am UK time. It's free, and there's a one-click unsubscribe if your decide that your inbox is full enough already!
---