Orchid in a cottage window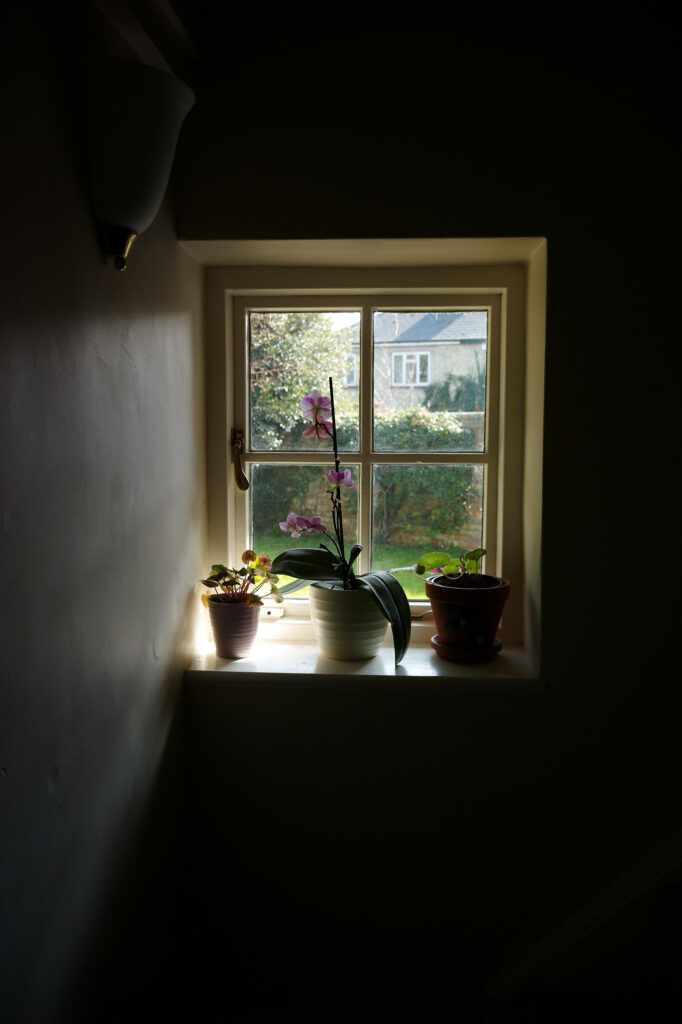 ---
Quote of the Day
"The profession of book-writing makes horse-racing seem like a solid, stable business."
John Steinbeck, accepting the Nobel Prize for literature.
---
Musical alternative to the morning's radio news
Elvis Costello Plays "Penny Lane" for Paul McCartney at the Obama White House
---
Long Read of the Day The woman who brought us the world
MIT Technology Review profile of Virginia Tower Norwood.
Had Virginia Tower Norwood listened to her high school guidance counselor, she would have become a librarian. Her aptitude test showed a remarkable facility with numbers, and in 1943, he could think of no better way for a young woman to put such skills to use. Luckily, Norwood didn't suffer from the same lack of imagination. The salutatorian of her Philadelphia high school class, she had long been devouring logic puzzles and putting the slide rule her father had given her at age nine to good use. Norwood ignored her counselor's advice and applied to MIT.

She would go on to become a pioneering inventor in the new field of microwave antenna design. She designed the transmitter for a reconnaissance mission to the moon that cleared the way for the Apollo landings. And she conceived and led the development of the first multispectral scanner to image Earth from space—the first in a series of satellite-based scanners that have been continuously imaging the world for nearly half a century.
Great story.
---
How bitcoin and Putin are enabling the ransomware crime spree
My column in yesterday's Observer:
I've just visited the Kaseya website. "We Are Kaseya," it burbles cheerfully. "Providing you with best-in-breed technologies that allow you to efficiently manage, secure and back up IT under a single pane of glass.

"Technology," it continues, "is the backbone of all modern business. Small to mid-size businesses deserve powerful security and IT management tools that are efficient, cost-effective, and secure. Enter Kaseya. We exist to help multi-function IT professionals get the most out of their IT tool stack."

Translation: Kaseya produces remote management software for the IT industry. It develops and sells this software to remotely manage and monitor computers running Windows, OS X, and Linux operating systems. As many organisations will grimly confirm, managing your own IT systems is a pain in the arse. So Kaseya has lots of happy customers in the US, the UK and elsewhere.

Or, rather, it did have. On 2 July it was the victim of a ransomware attack that affected between 800 and 1,500 of its small business customers, potentially making it the largest ransomware attack ever.
Do read the whole thing
---
Why the fact that Biden's 'right to repair' order also covers electronics could be a really big deal.
Great piece by Cory Doctorow which — as usual — is full of relevant links, including to Zephyr Teachout's article in The Nation:
Presidential power in this area is technically limited but vast in practice. While some agencies, like the Department of Agriculture, must follow his orders, independent agencies like the FTC don't have to listen to their president. They can sit on their hands and do nothing. But a clear signal of purpose and vision from the president has, in practice, an enormous energizing effect. It gives cover for agencies that want to be aggressive but find themselves drowned in the arguments by corporate lobbyists. It gives dissidents within somnolent agencies the argument that action is necessary. And it forces agencies that disagree to do some explaining: If any independent agency heads choose not to go forth with the rulemaking in the directive, they'll be getting lots of questions about why not. For someone like FTC Chair Lina Khan, who undoubtedly was moving in the direction laid out in the directives regardless, it puts the wind at her back, and quiets the corporate critics within the Democratic Party who would be tempted to say that responsible exercise of power is stepping out of line.
---
This blog is also available as a daily email. If you think this might suit you better, why not subscribe? One email a day, Monday through Friday, delivered to your inbox at 7am UK time. It's free, and there's a one-click unsubscribe if you decide that your inbox is full enough already!
---