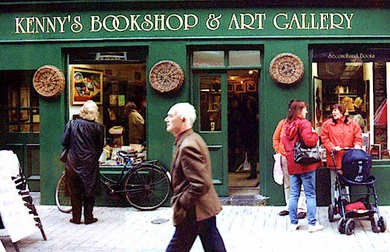 Galway is my favourite Irish town, and for decades an essential part of every trip was to walk down Shop Street and turn left into High Street to visit Kennys Bookshop. Inside, one would spot an imposing matron sitting alertly behind a till and watching everything that went on, talking to customers and keeping staff in order. This was Maureen Kenny, co-founder of the business (in 1940) and the woman Seamus Heaney described as "the Madonna of the Manuscripts".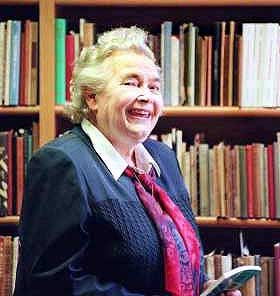 The word 'formidable' might have been coined for her. She built the business into one of the world's great independent bookshops (and successfully took it online long before most independents perceived the threat of the Internet). It made sense because Kennys had built up an impressive mail-order business. In the 1980s the Library of Congress appointed Kennys as their Irish suppliers and the business now supplies three hundred other libraries throughout North America. When my book on the history of the Net was about to come out in 1999, I sent her a copy and in the ensuing telephone conversation she made it clear to me in the nicest possible way that for her this Internet stuff was quite old hat! This was indeed true: the shop's first web site was launched in 1994, and the family has always maintained that only one other bookshop in the world beat them to it. In 2005, the Kennys took the next logical step, closed the shop and took the entire business online.
Which of course is a shame in one way because Kennys was a lovely shop, with a stupendous collection of Irish literature, and jumbles of literary treasures in every corner. I never came out of the place without having bought something, and always tried to snatch a word with its presiding genius.
There was a nice obit in the Irish Times. Excerpt:
Maureen was born in Glebe Street, Mohill, Co. Leitrim, the eldest of three children. Her father died suddenly when she was four years old, leaving her mother with three young children and a business she knew nothing about.

Next door was a Royal Irish Constabulary barracks which was taken over by the Black and Tans. On a couple of occasions they took the infant Maureen and used her as a human shield on top of their truck while driving round Mohill, randomly shooting in through windows.
She went on to win a scholarship to University College, Galway in 1936 and on her first day there met Des Kenny. As Des often said later, "that was that".
Kennys was — and remains — a real family business, employing 40 people — including most of her children. This photograph (from the company web site) shows Mrs K flanked by her offspring.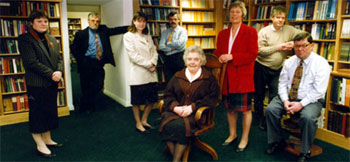 She is survived by six children, 21 grandchildren and 13 great-grand-children.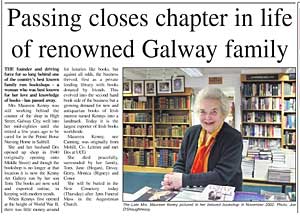 Clipped from this week's Connacht Tribune.
She was buried on Thursday. I bet it was some funeral.