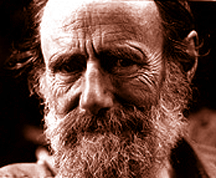 John Godley, aka Lord Kilbracken, an engaging Irish peer who renounced his British citizenship after Bloody Sunday, has died at the age of 85. He was a war hero (he had a DFC, among other decorations) who, in 1972, returned his war medals to the Queen in protest at the British policy of internment in Northern Ireland. There's a lovely obit in today's Guardian which captures something of his individuality and astonishing life. The Times obit is also good.
One of my memories of him comes from an intervention he made in a surreal debate in the House of Lords in 1995 about the 'Historic Monuments and Archaeological Objects (Northern Ireland) Order 1995'. The relevant passage from Hansard goes like this:
Lord Williams of Mostyn: We welcome the thrust of the order and its purpose. In the 10 minutes or so that we had to pass before beginning this business I turned my eye to Article 42 which makes it a criminal offence for any person who finds an archaeological object not to report it to the relevant authorities, and a separate and distinct criminal offence to be in possession of, or retain possession of, such an object. All agog, I wished to satisfy myself as to the definition of an "archaeological object". Article 2(2) states that archaeological object,

"includes any object, being a chattel … manufactured or unmanufactured … which is, or appears to be, of archaeological or historical interest and which has, by reason of such interest, a value greater than its intrinsic value".

As a lawyer I am happy to say that that will cause endless problems in court in the future.

I considered a possible example. In, say, five years' time, after the next election, the Minister, alas, will no longer be occupying her present situation. If in the next year or so she goes, as she regularly does, to Ballymena, Craigavon or Dungannon and happens to discard a pair of ministerial wellington boots which happen thereafter to be ploughed over and if, subsequently, I happen to discover those ministerial, monogrammed wellington boots, they will have an intrinsic value of about 75p, I suppose, while the value of the materials of which they are composed will be about 50p. However, their historic value (by virtue of their connection with the revered Minister) will be significantly greater than either 75p or 50p. It will probably be in the region of £2.50 plus VAT.

According to the definition I have quoted, that would make them—absurdly, but perhaps understandably—an archaeological object, the possession, or non-reporting of possession, of which would render me liable to prosecution and condign punishment in the magistrates' court or equivalent. Can that be right? Other than that helpful question, I have nothing further to add.

Lord Kilbracken: My Lords, perhaps I might rise for a moment to refer to the point made by my noble friend on the Front Bench regarding the Minister's boots. As I understand it, the regulations only apply to objects of archaeological interest. Though I feel sure that such boots may be objects of sentimental interest, particularly to the noble Baroness, can they truly be said to be of archaeological interest?

Lord Williams of Mostyn: My Lords, I am obliged to my noble friend. In fact the order refers to articles not only of archaeological interest, but also of historical interest. It was the latter adjective upon which I was focusing my attention.