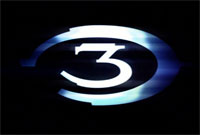 Halo 3 arrived from Amazon today, and so I guess no homework will get done today in the Naughton household. Sigh. But behind the delivery is an interesting story about customer service.
We pre-ordered Halo 3 ages ago, along with another game. Then the launch date for the second game slipped — to November. I assumed that Amazon would then split the order and deliver Halo 3 on launch day. Came the day and the postman was anxiously awaited by the Naughtons. No Halo 3. None the next day either. And so it went on. Eventually — yesterday — I went onto 'Track My Order' on Amazon.co.uk and found that Halo 3 hadn't been dispatched. Wading through the site to find a way of communicating with Amazon, I came on a button labelled (I think) 'Phone Call'. I clicked on it, entered my mobile number and 30 seconds later the phone rang. It was a real human being wondering what the problem was. He looked up the order, found that the Halo 3 shipping date was bound to that of the other game, asked me if I'd like to cancel the second order, and scheduled Halo 3 for immediate dispatch.
After hanging up, I looked in my inbox — to find two emails from Amazon one confirming cancellation of the second order. The other asking me for feedback on whether the phone call had been helpful.
A long time ago, I wrote in the Observer that Amazon was really just a world-class customer-service outfit that happened to be on the Web. I was right. I wonder how many other firms can match that kind of performance.