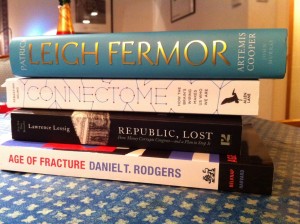 One of the really nice things about Christmas is that the phone stops ringing and the tide of work-related email recedes, leaving time for reading. Here's what's I'm into just now:
Artemis Cooper's biography
of Patrick Leigh Fermor. Like many people I've been fascinated by Fermor ever since reading his two great travel books — A Time of Gifts
and Between the Woods and the Water
. I've long been curious to know what the rest of his life was like. Now I'm finding out.
Sebastian Seung's Connectome: How the Brain's Wiring Makes Us Who We Are
.
Larry Lessig's new book, Republic, Lost: How Money Corrupts Congress – and a Plan to Stop It
.
Age of Fracture
,a terrific work of intellectual history and the first really convincing account I've come across of how and why the post-war liberal consensus ran out of steam and was replaced by the neo-con nonsense that has got us into our current mess.