The recumbent Bear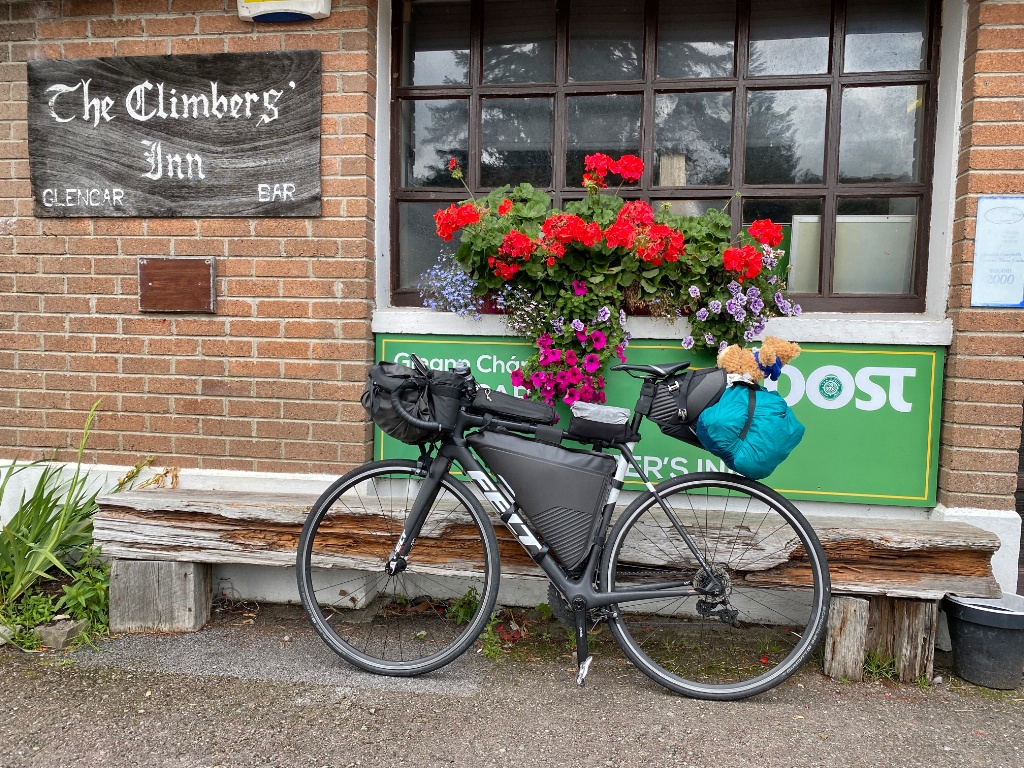 En route to Daniel O'Connell's house in Derrynane the other day we passed a cyclist who had an intriguing passenger.
Later on, he caught up with us at a café in Glencar, and the identity of the freeloader was revealed.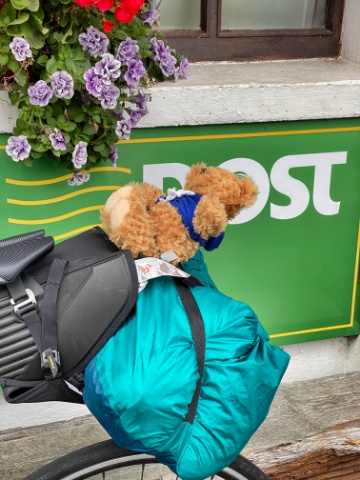 ---
Quote of the Day
"He drank port and put on weight, and attempted to behave in the manner of an Edwardian aristocrat. He was very conscious of what a gentleman should or should not do: no gentleman looks out of a window, no gentleman wears a brown suit. In fact, Evelyn's abiding complex and the source of much of his misery was that he was not a six-foot tall, extremely handsome and rich duke."
Cecil Beaton on Evelyn Waugh
---
Musical alternative to the morning's radio news
Elgar | Violin Concerto Op.61 | I. Allegro | Daniel Hope
The concerto was the second item in last night's BBC Proms
---
Long Read of the Day
Life on board a British nuclear submarine
Stephen Moss spent a week on board a British nuclear submarine in 2012. His account is really interesting, if perhaps not exactly a recruitment plug. You have to admire the sailors who opt for this kind of work/life imbalance.
I ask Chief Johnson why he switched from surface ships to submarines. "I got drafted in 1983 and didn't have any choice," he says. "I tried to get out of it. I didn't want to be a submariner. If you ask a general service chap what they think about submarines, they'll say: 'Horrible, dirty, noisy, you can't have a shower, you're always stinking.' Well, in the old days that might have been the case – water was very restricted – but you can see yourself; conditions are not that bad. On my first boat, Spartan, at the back end of 1983, it all clicked – it was a completely different way of life from general service."

He goes on to cite what most submariners say is what they like about life beneath the waves: the relative informality. There are, of course, distinctions between officers and ranks, but in so confined a space nothing like the rigidities of surface ships; the sense of being an elite, what one able seaman calls a "brotherhood"; the camaraderie that comes from knowing they rely entirely on each other. When a man, whether officer or rating, becomes a submariner, he is awarded a badge formed from two dolphins and a crown. The badge admits you to an exclusive club – there are around 3,500 operational submariners in the UK. It means that, in the event of an emergency, you will be a help, rather than a hindrance. Until then, in the uncompromising language of submariners, you are an "oxygen thief".
Thanks to The Browser for spotting it.
---
Books, etc.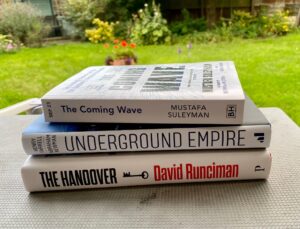 It's as if Christmas had come early — three important and fascinating books are arriving all at once.
The Coming Wave by Mustafa Suleyman is a sobering read. (My Observer review of it comes out on Sunday.) The oncoming 'wave' in his title is "defined by two core technologies: artificial intelligence (AI) and synthetic biology", and it's the conjunction of the two that makes it intriguing and dangerous. Their rapid proliferation threatens to unleash "disruption, instability, and even catastrophe on an unimaginable scale." His book is an exploration of how — and whether — this coming wave can be 'contained'. What's unusual about it is that its author is a real tech 'insider' (he's a co-founder of DeepMind, still the top AI firm in the world IMO). But he's also one of the few techies I know who has a conceptual grasp of the dangers to democracy (and maybe humanity) that might lie ahead.
Underground Empire: How America Weaponised the World Economy by Henry Farrell and Abraham Newman is the most surprising arrival. Two distinguished political scientists collaborate to uncover "one of the most sophisticated 'empires' the world has ever known". It's made up of fibre-optic cables and obscure payment systems and Farrell and Newman argue that the US has turned these 'vital pathways' of the world economy into tools of domination over foreign businesses and states, whether they are adversaries or allies. If it hadn't been authored by Farrell and Newman I might have relegated to the 'conspiracist' shelf, but I've followed Henry for years and he's one of the sharpest (and most sophisticated) scholars in the business. Comes out in the UK on September 7.
The Handover is by my friend and colleague David Runciman who has the great advantage of always being able to escape from "the sociology of the last five minutes" that mars most writing about technology. His book has a vast historical sweep and argues that what AI enthusiasts call a 'singularity' actually happened a long time ago, when we handed over control of our lives to two superintelligent machines — states and corporations. He's the only scholar I know who has the capacity to find original entry points to the controversies that bedevil us now, and he and I have talked a lot about this stuff over the years. (Among other things, we ran a two-year research project on technology and democracy a few years ago, one outcome from which was his book How Democracy Ends.) His new book is coming out on September 7.
---
My commonplace booklet
Om Malik on the usefulness of writing with a fountain pen (well, any physical writing implement, really).
There has been enough academic research that reminds us that writing is a good way to boost critical thinking. It is also well documented that writing in a long hand is good for giving dimensionality and texture to writing. "Writing with a pen is like playing," science fiction writer Neil Gaiman (and a fellow fountain pen enthusiast) once said in an interview.

"A lot of senses are activated by pressing the pen on paper, seeing the letters you write, and hearing the sound you make while writing," Audrey van der Meer of the Norwegian University of Science and Technology, Trondheim, said when sharing her research on writing and memories. "These sensory experiences create contact between different parts of the brain and open the brain up for learning. We both learn better and remember better." (Full study here.)

For me, it allows me to slow down and allow new lines of questioning and reasoning to slowly emerge out of the shadows. This is a remarkably different process when typing on a computer — I love my machines — but I really find that the sheer speed with which I type is glorious, but it does propel you into finish-line-oriented thinking. Of course, the act of writing allows me to use some of my favorite fountain pens. There is no better way to put a smile on your face that seeing your ideas rendered onto paper in a luscious terracotta color or your article taking form in a vibrant turquoise so reminiscent of the summer itself…
---
Linkblog
A mugshot to treasure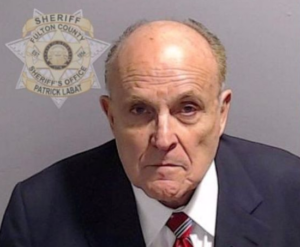 Rudi Giuliani poses for a Sheriff in Atlanta.
h/t Dave Winer
---
This Blog is also available as an email three days a week. If you think that might suit you better, why not subscribe? One email on Mondays, Wednesdays and Fridays delivered to your inbox at 6am UK time. It's free, and you can always unsubscribe if you conclude your inbox is full enough already!
---