Honey business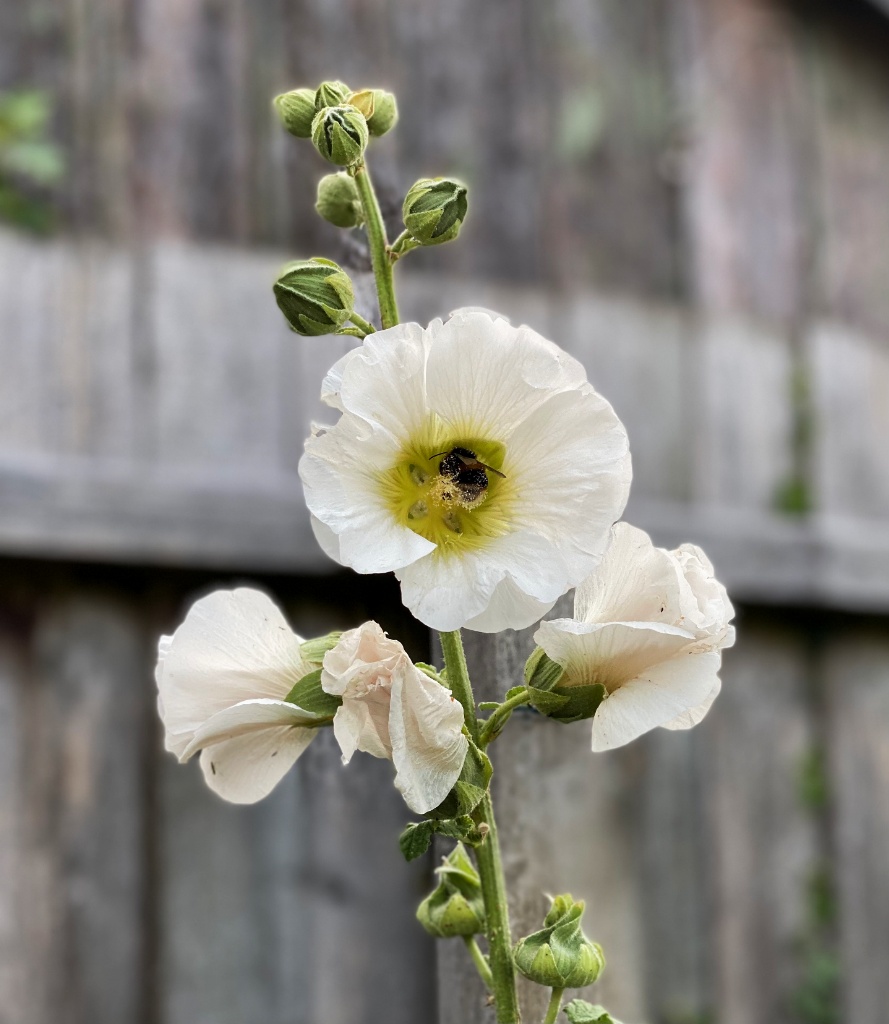 Spotted in our garden yesterday evening. Zoom in to see the bee covered in pollen. Taken with an iPhone 11 Pro. Astonishing to have a camera this good in one's pocket.
---
Quote of the Day
"The first time I walked downstairs, and they played 'Hail to the Chief,' I wondered: 'Where is he?'"
---
Musical alternative to the morning's radio news
Here Comes the Sun | Christopher Austin's arrangement
The other day I linked to George Harrison and Paul Simon singing this wonderful song. Afterwards my wife, who is a musician, spotted the Austin arrangement and I went looking for it. Turns out that the song has an interesting history, and a nice Wikipedia entry. It was written at a difficult period in Harrison's life. He had quit the Beatles temporarily, had been arrested for possessing marijuana, and had had his tonsils removed. It was composed, Harrison later wrote in his autobiography, in April 1969,
at the time when Apple was getting like school, where we had to go and be businessmen: 'Sign this' and 'sign that.' Anyway, it seems as if winter in England goes on forever, by the time spring comes you really deserve it. So one day I decided I was going to sag off Apple and I went over to Eric Clapton's house. The relief of not having to go see all those dopey accountants was wonderful, and I walked around the garden with one of Eric's acoustic guitars and wrote "Here Comes the Sun".
---
Long Read of the Day
Stop Building Bad AI
Terrific Boston Review essay by Annette Zimmermann on the question that is rarely asked: aren't there some digital technologies that simply ought to be outlawed? Facial recognition tech, for example. I mean to say, Pharma companies are not allowed to release drugs until they have been comprehensively tested for safety. Why should some digital technologies be any different?
Should these technologies exist? Whether AI can make accurate predictions in these areas is far from clear. But beyond this technical issue, we ought to ask whether we need such tools to begin with. Are the problems they set out to solve worth solving? How does predicting someone's sexual orientation, possibly without their knowledge and against their will, make the world better, or more just? What harms might result from the use of such a tool? We should ask questions about the goals and likely consequences of a particular technology before asking whether it could be made to work well. And when we do so, we need to be open to the possibility that some AI tools should not be built in the first place.
This is important and worth reading in full.
---
Amazon and AWS want to hire all your friends, enemies, and everyone in between
Amazing report from The Register:
Amazon has 55,000 employees in the UK, and 1.3 million worldwide. At the end of 2019, its global workforce stood at 798,000, while five years ago it was a mere 341,000.

The firm does not officially break out either its workforce by role, or its recruitment targets. But at time of writing, Amazon's vacancies page lists 54,000 jobs, of which more than 15,000 are in software development, with just under 3,500 in ops, IT and support engineering, and over 3,000 in technical project, program, and product management. It also needs over 5,400 new solution architects.

Drilling down into AWS specifically reveals over 19,000 full time vacancies. Of those, more than 6,100 are in software development, 5,258 are solutions architect roles, with 1,604 in ops, IT and support engineering, with another 1,200 project, program, and product management jobs.
By comparison Microsoft's entire workforce is 144,000, while Facebook currently employs around 60,000 people, up 26 per cent on the year.
This is what a behemoth looks like.
Thanks to Seb Schmoller for the link.
---
The costs of tech CEO security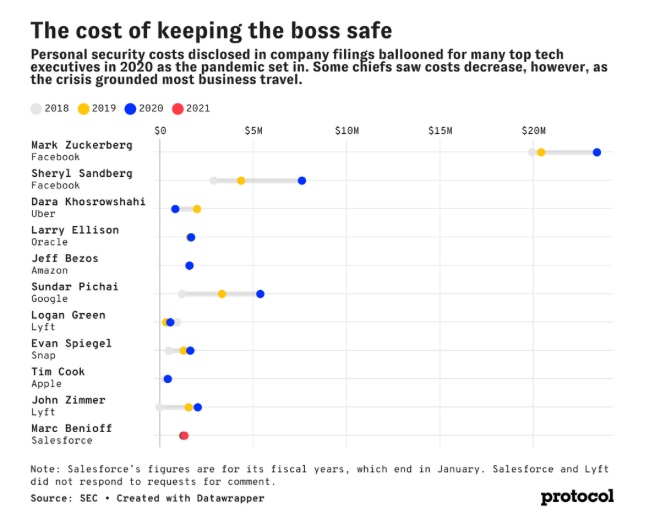 ---
This blog is also available as a daily email. If you think this might suit you better, why not subscribe? One email a day, Monday through Friday, delivered to your inbox at 7am UK time. It's free, and there's a one-click unsubscribe if you decide that your inbox is full enough already!
---