Personal Chairs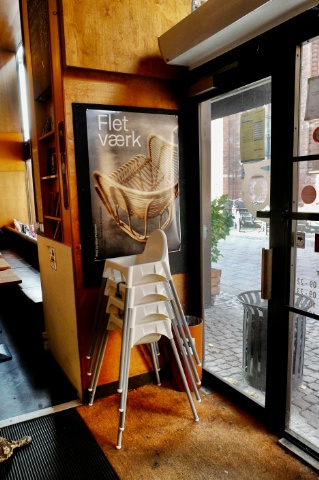 The entrance to my favourite Copenhagen café, where we had breakfast last Thursday morning.
---
Quote of the Day
"What can be said at all can be said clearly; and whereof one cannot speak thereof one must be silent."
Ludwig Wittgenstein in the Tractatus (in Frank Ramsey's translation)
I've always loved this quote, though in lectures I generally paraphrase it as: "Anything that can be said can be said clearly." This is sometimes news to my fellow academics.
---
Musical alternative to the morning's radio news
Handel | Semele, Act 2 | Oh sleep, why dost thou leave me? | Renée Fleming
---
Long Read of the Day
Inside Meta's Oversight Board: 2 Years of Pushing Limits
This is the first substantial piece about Meta's Oversight Board that I've seen. It's by Steven Levy, who'd have been able to gain more access (to the Board) than most journalists would. I found it particularly interesting because I was scathingly dismissive of the Board when it was set up, regarding as a reputation-washing scam by Zuckerberg & Co. I still think that that was its function, but Levy's account suggests that I under-estimated the persistence and determination of some members of the Board to try and hold their toxic supervisee to some kind of account.
Some critics see the Oversight Board as an exercise in corporate ass-covering by a bunch of Meta's puppets. If the company doesn't want to make a controversial call, it can push the board to take a position on the issue and, conveniently, take the heat. Emi Palmor, a board member who once served as the director general of Israel's Justice Ministry, says she's frequently approached in the supermarket by people seeking tech support for Meta apps. "I want to murder the person who chose the name Oversight Board," she says. "It is an unexplainable term."

But since it started hearing cases in the fall of 2020, the board has won grudging respect from the human rights organizations and content moderation wonks who pay attention to its work. "People thought it would be a total fiasco," says Evelyn Douek, a Stanford law professor who follows the board closely. "But in some real ways, it has brought some accountability to Facebook." Meta, meanwhile, is declaring victory. "I'm absolutely delighted—thrilled, thrilled, thrilled with the progress," Clegg says. The board's approach to cases "is exactly what you should expect between a social media platform and an independent oversight entity."
Well worth your time if the issue of holding tech companies to account interests you.
---
Crypto news
From Tortoise media…
Crypto breaks

Crypto was changing the world and redefining global finance – until it wasn't. First, FTX crashed. It is bankrupt and under federal investigation, while founder Sam Bankman-Fried is being sued. But FTX was just the first domino. In recent days, one of the world's biggest crypto miners, Core Scientific Inc, said it may be seeking bankruptcy protection; Genesis Trading, a large decentralised lending and trading platform, halted trades; cryptocurrency lender BlockFi reportedly prepared for a potential bankruptcy filing; Tether briefly unpegged from the dollar (which is a problem because it's whole job is being pegged to the dollar) and the price of Bitcoin is down nearly 20 per cent this month. Meanwhile, US quarterback and crypto bro Tom Brady faces legal action for promoting FTX and thousands of Mercedes G-Wagons – the unofficial crypto bro car of choice – are for sale on Autotrader.
Interesting. I hadn't known about the G-Wagon obsession.
Footnote for petrolheads
According to Wikipedia,
The Mercedes-Benz G-Class, sometimes colloquially called the G-Wagen (as an abbreviation of Geländewagen) is a four-wheel drive automobile manufactured by Magna Steyr (formerly Steyr-Daimler-Puch) in Austria and sold by Mercedes-Benz. Originally developed as a military off-roader, later more luxurious models were added to the line.
It's a perfectly hideous, vulgar vehicle, IMO. You wouldn't want your daughter to marry anyone who drove one.
---
Books, etc.
Patti Smith's Book of Days is utterly delightful. Although it has a photograph for every day of the year, it's not really a photography book. Many of the photographs are, qua photographs, technically mediocre. But that's fine because their function is to act as triggers for reflective captions. On 10 March, for example, the pic is of a coffee cup and Patti's spectacles. But the cup is a Brasserie Lipp cup, and the caption "All I needed in Paris" tells everything you need to know. I'd have taken a similar photograph if I'd been there.
On 6 April, the photograph is of her daughter outside the Pantheon in Rome. Caption reads: "Jesse before Rome's Pantheon, the burial place of Raphael, the youthful Renaissance master who died on his thirty-seventh birthday. Known for his beauty of countenance and spirit, it was said that Nature wanted him for herself."
On 12 February a photograph of her desk with an open antique book lying on it together with her beloved (but now defunct) Polaroid camera. The caption: "Still life with Finnegans Wake, a bible of the incomprehensible, by the great Irish writer, James Joyce. I obtained it some years ago in a London bookshop with money I earned performing poetry. Joyce laboured on his masterwork for seventeen years, so one need not hurry to navigate it."
On 13 February (the next day) a photograph of her desk with an open notebook and what looks like a typewritten manuscript of A skeleton key to Finnegans Wake by Joseph Campbell and Henry Morton Robinson. Caption: The key is equally incomprehensible."
You get the idea. It'll make a lovely Christmas present. I can think of several of my friends who might just receive one on December 25.
---
This Blog is also available as a daily email. If you think that might suit you better, why not subscribe? One email a day, Monday through Friday, delivered to your inbox. It's free, and you can always unsubscribe if you conclude your inbox is full enough already!
---