Covid warning — geek version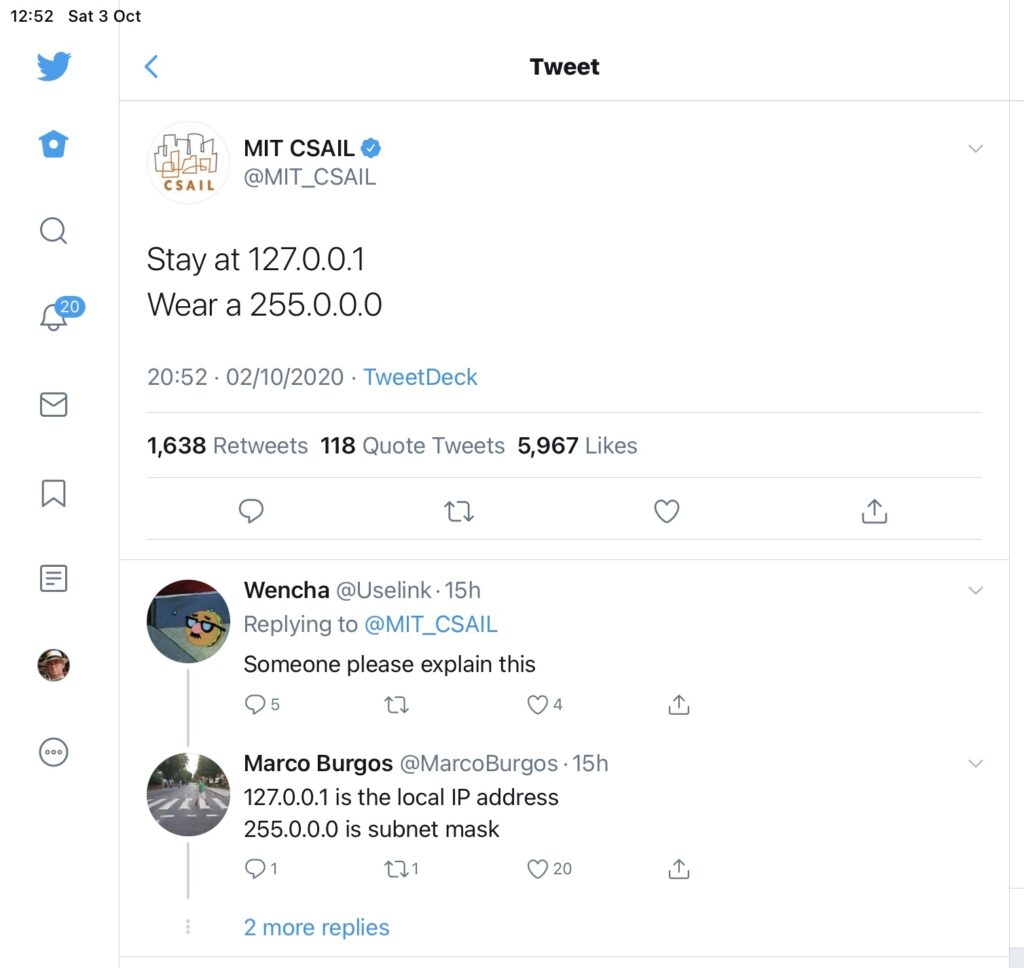 I love this. CSAIL is the Computer Science and Artificial Intelligence Lab at MIT.
---
Quote of the Day
"She clapped me to her bosom like a belladonna plaster and pushed me onto the dance floor. It was like being lashed to an upholstered pneumatic drill."
Richard Gordon in Doctor at Sea
---
Musical alternative to the morning's radio news
Mozart | Soave sia il vento | Cosi fan Tutte
One of the loveliest things Mozart ever wrote. And if you're planning your funeral, consider it for the closing music as your cortege heads for the graveyard. For if you do, you'll have the last laugh — and some members of the congregation may feel twinges of anxiety. The two ladies are hoping the wind blows gently for their beloveds, Ferrando and Guglielmo, as they supposedly head off to war — when the two rogues (as the audience and Don Alfonso know) are actually planning to return in disguise and make fools of their deluded fiancees. It's basically sexist nonsense accompanied by heavenly music.
---
Long Read of the Day
How to Put Out Democracy's Dumpster Fire
Useful piece by Anne Applebaum and Peter Pomerantsev. Familiar stuff for those of us who have to follow the evolving story, but a good summary roundup for anyone who wants to catch up on what is rapidly becoming a major concern for democracy.
---
The beginnings of a working public EV-charging grid for the UK?
Lovely post by Quentin on his blog marking the announcement that Ecotricity was to lose its monopoly on the provision of electric chargers at motorway service stations. Henceforth public charging at service stations will be provided by a partnership of Ecotricity and Gridserve, the new kid on the block. Quentin is the right person to write this post, since he was a pioneering adopter of EVs — he had a gorgeous little BMW i3 five years ago, and now has a Tesla (as do I).
The problem was that the Ecotricity charging network suffered from the problems often displayed by monopoly providers — as Quentin tactfully points out:
Over the years, though, fondness for Ecotricity has waned, because the network was poorly-maintained and unreliable, the 'rapid' chargers were, by modern standards (a whole five years later!), slow and cranky, and nobody now heads for an Ecotricity charger if there is any other viable option. A recent Zap-Map survey of the UK's 16 charging networks — yes, there are actually 16 — placed Ecotricity at position… ahem… 16.
In a nice touch, his blog post bookends the story with a picture of his little i3's first public charge at an Ecotricity charging point, and its final charge (before exchanging it for a Tesla) at the new Gridserve service station near Braintree.
---
Long Covid: How poor reporting can lead to misinformation and anxiety
Zeynep's Tufecki is in a class of her own — IMHO the best writer on the pandemic. This essay is a masterclass in how faulty — if well-intentioned — reporting can lead to unfortunate results.
The headline on the offending article (in the New York Times) was "Many 'Long Covid' Patients Had No Symptoms From Their Initial Infection". The nub of it was this:
Many people who experience long-term symptoms from the coronavirus did not feel sick at all when they were initially infected, according to a new study that adds compelling information to the increasingly important issue of the lasting health impact of Covid-19.

The study, one of the first to focus exclusively on people who never needed to be hospitalized when they were infected, analyzed electronic medical records of 1,407 people in California who tested positive for the coronavirus. More than 60 days after their infection, 27 percent, or 382 people, were struggling with post-Covid symptoms like shortness of breath, chest pain, cough or abdominal pain.

Nearly a third of the patients with such long-term problems had not had any symptoms from their initial coronavirus infection through the 10 days after they tested positive, the researchers found.
You can see why this piece caused lots of concern. It was saying that asymptomatic infection seems to potentially create "Long Covid" sufferers in large proportions. Scary.
But watch Zeynep going to work on it…
Here's the problem though—and these are things you'd never know if you read only the New York Times or other articles about the study, rather than the study itself. The findings were drawn from electronic health records: i.e. people who were interacting with the hospital system. So the study necessarily excludes anyone who didn't feel the need to interact with the hospital after their positive test. Who is still interacting with the hospital sixty days after their diagnosis? People who don't feel great. Who is not? People who don't feel the need to because they feel fine. Hence, clearly, this is not a representative group whatsoever. These are people who sought follow-up, by definition. Their problems are real, for sure, but they don't form a basis from which to report percentages, really. This is called a "selection effect" — if you only include people who select themselves into a group, you have little idea of what's actually going on besides some people selecting themselves into that group.
And so on.
It's (too) easy to be judgmental about this and — as a columnist who has sometimes been spectacularly wrong I'm in no position to throw stones. Pam Belluck, the author of the article, is a well-known health and science writer who has shared a Pulitzer Prize for some of her work. She's no rookie, in other words. Among the lessons implicit in Zeynep's dissection are that: Covid reporting is hard; the scale of the pandemic means that many Covid-related stories make headlines; really accurate Covid reporting is even harder; and often the truth is elusive and not amenable to punchy headlines. Also worth bearing in mind is that the journalist who never made a mistake never wrote anything.
---
Other, hopefully interesting, links
A Toronto burger joint Toronto has named its menu items after office supplies so that customers can include them on expense reports. Smart. Mine's a Mini Dry Erase Whiteboard with fries; no mayo. Link
Dave Winer's blog for March 11, 2020. He has a daily blog, just like mine. And it's now very interesting to look back to a year ago: the storm was coming, but relatively few knew how bad it was going to be. Link
Thought Economics. Amazing site created by Vikas Shah: huge collection of interviews he's done with an amazing range of people. Link. Thanks to Diane Coyle for the pointer.
---
This blog is also available as a daily email. If you think this might suit you better, why not subscribe? One email a day, delivered to your inbox at 7am UK time. It's free, and there's a one-click unsubscribe if you decide that your inbox is full enough already!
---