Nothing is perfect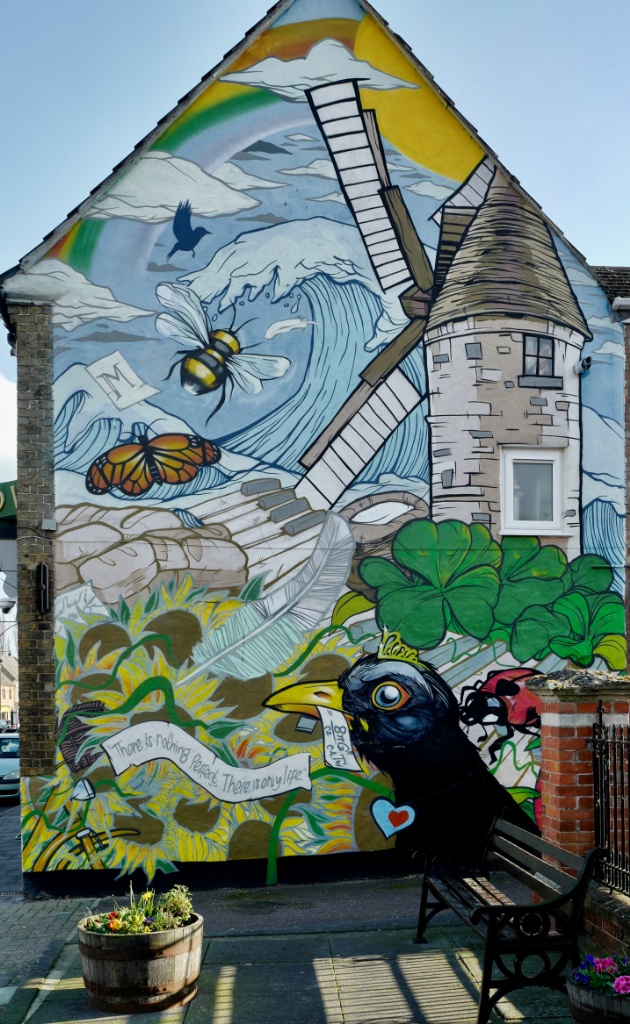 A gable-sized mural spotted yesterday in a Cambridgeshire village.
---
On reading, writing and reviewing
I read too much. And then, the moment after typing that sentence, I think, No! I don't read enough — because I'm continually humbled by regular discoveries of books I ought to have read, but haven't. Since there are only 24 hours in the day I try to compensate by seeking out reviews of books that fall into that category. I try to be choosy — in terms of looking for reviews by people who are informed and whose judgement is sound. But finding such people is sometimes an imperfect science.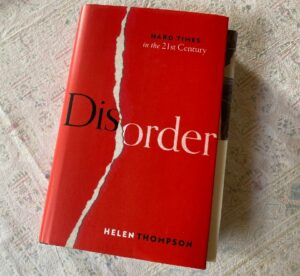 I'm current reading Helen Thompson's new book — Disorder: Hard Times in the 21st Century.
It's terrific — deeply serious and learned, but not something one can skim, because she thinks we need three different kinds of history to understand how we came to be in the mess we're currently in — histories that she then provides in depth. And as I wend my way through it — currently resisting the temptation to read other people's reviews of it — I found myself thinking, Thank God I'm not reviewing it!. Which suddenly reminded me of a thought that Virginia Woolf once confided to her diary, and so I went looking for that.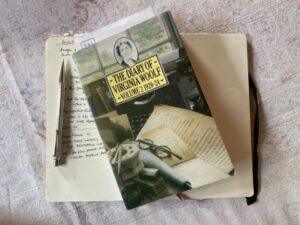 Ah, here it is! The entry for Saturday 18 February, 1922, when she is recovering from a long (six-week) bout of influenza that knocked her out for a while.
She's been reading La Princesse de Cléves, which Wikipedia describes as "a French novel which was published anonymously in March 1678. It was regarded by many as the beginning of the modern tradition of the psychological novel and a great classic work. Its author is generally held to be Madame de La Fayette".
Woolf thinks it's wonderful but also hard going. And then she writes:
Thank God … I am not reviewing it. Within the last few minutes I have skimmed the reviews in the New Statesman; between coffee & cigarette I read the Nation: now the best brains in England (metaphorically speaking) sweated themselves for I don't know how many hours to give me this brief condescending sort of amusement. When I read reviews I crush the columns to get at one or two sentences; is it a good book or a bad? And then I discount those 2 sentences according to what I know of the book & of the reviewer. But when I write a review I write every sentence as if it is going to be tried before 3 Chief Justices: I cant believe that I am crushed together and discounted. Reviews seem to me more & more frivolous. Criticism on the other hand absorbs me more and more.
I so love Woolf's Diaries. But now I really need to get back to Helen's book…
---
Quote of the Day
"Wild animals never kill for sport. Man is the only one to whom the torture and death of his fellow-creatures is amusing in itself."
---
Musical alternative to the morning's radio news
Emmy Lou Harris and Mark Knopfler | Why Worry
The song ends at 4'40" into the video — the remainder is just slow-scrolling titles.
---
Long Read of the Day
Communities of Extraction
As panic about the implications of a boycott of Russian oil and gas increases, stand by for massive lobbying by the extractive industries for a more relaxed regulatory attitude towards fracking proposals.
This striking paper by Wyatt Sassman of the marvellous Law and Political Economy Project provides a graphic illustration of how the politics of fracking exacerbate local inequality and pollute politics. In Colorado, for example, those politics
concentrated harms closer to people without meaningful oversight of industry siting, raising obvious distributional risks. There is perhaps no better example than the massive project located behind the Bella Romero Academy's middle school campus. Denver-based company Extraction Oil & Gas had originally proposed to drill dozens of wells next to Frontier Academy, a school serving a largely white community in Greeley, Colorado. When the community organized against the project, Extraction relocated it next to Bella Romero Academy—a school serving a comparatively low-income, Latino community outside of Greeley in unincorporated Weld County, Colorado.

As a patent example of environmental injustice, the project received national and statewide attention. In a story run in the New York Times, one Bella Romero parent explained: "It's like they said, 'Put it where the Mexicans live, over there it's O.K.'" Supported by environmental and racial justice groups, parents and nearby community members organized to oppose the project. Yet Extraction maintained that this was its preferred location, and the socio-legal structures fell into place: permits were issued, hearings denied, lawsuits filed, injunctions denied, wells drilled, wells fracked, and appeals lost. Weld County commissioners unanimously approved the project, publicly "blistering" its opponents as alarmist and opposed to the county's economic growth.
There's more shocking detail in the piece, which is what makes it well worth reading.
---
Big Tech is racing to swallow other companies before the Biden regulators strike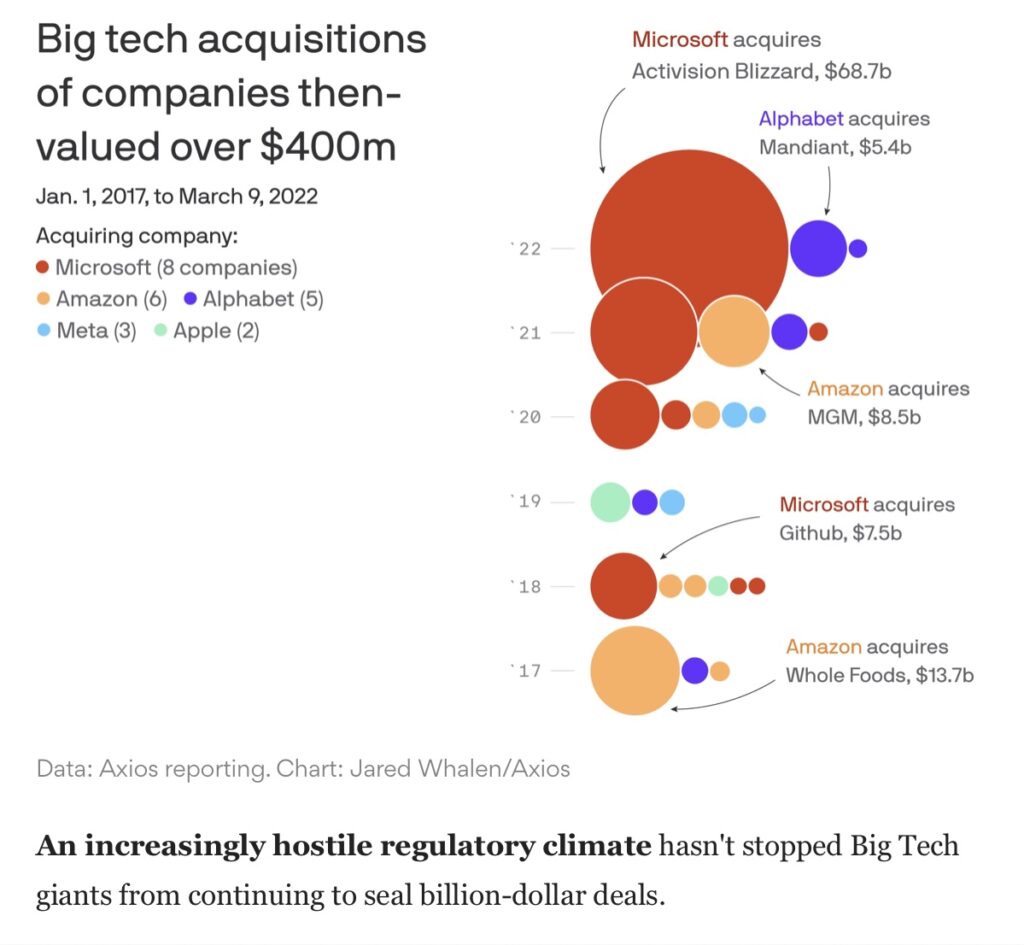 Google's $5.4 billion bid to buy cybersecurity firm Mandiant is the latest in a string of high-dollar acquisitions by Big Tech.

Microsoft announced a $68 billion deal for video game company Activision Blizzard in January.
Amazon is under regulatory review for its $8.45 billion purchase of Hollywood studio MGM, announced last year.
Meta (then Facebook) bought Kustomer for $1 billion and Giphy for $400 million in 2020, just a few months before the FTC sued the company over past acquisitions.

Sarah Miller, executive director of the American Economic Liberties Project, says: "The new generation of antitrust enforcers will not be bullied."

Justice Department antitrust chief Jonathan Kanter warned in a January speech that he's skeptical of conditions imposed by regulators that are meant to "fix" mergers — and instead will seek to block deals likely to reduce competition.
---
Why frantic Ukrainians are having such trouble getting British visas
I thought it was just the Foreign Office's incompetence. Turns out that's not the whole answer. It looks as though a better explanation might be that the government outsourced the visa process to an outfit called TLSContact, another one of those 'service' corporations that leech off the public sector.
Here are a few excerpts from openDemocracy's report on the scandal:
It was claimed yesterday in Parliament that TLSContact's visa centre in Rzeszow, Poland, had turned away applicants who had queued in freezing temperatures for hours, saying it had no slots available until the end of April. Reports on social media claimed the firm had been pressuring Ukrainians to pay for extra services beyond its basic free appointments.

The Labour MP Clive Efford slammed the situation as "complete chaos".

Now it has emerged that the home secretary was told by the Independent Chief Inspector of Borders and Immigration in November 2021 that TLSContact was so hell-bent on making profit that its use posed a risk of "reputational damage" to the UK. The firm has been handed government contracts worth hundreds of millions of pounds since 2014.
I've just looked at the Report. Here's a sample from its conclusions:
Inspectors recognised that AVS [Added Value Services], provided by the CPs [Commercial Partners], are an important revenue stream for those companies and provide customers with an element of choice within their application process. The Home Office made it clear to inspectors that AVS are optional for applicants. However, respondents to the CfE indicated that, due to the complicated nature of the available guidance and the way AVS are "packaged" on the website, they were uncertain as to whether they should purchase these services to ensure that the Home Office viewed their application favourably. This view was supported by stakeholders, who were particularly concerned about the vulnerability of customers who may pay more in an attempt to influence the process. Customers who are not represented by agents face further uncertainty as to what services they should be purchasing and may end up paying for services that they do not require, adding to their financial burden.
Now back to openDemocracy's story…
Staff working in UK diplomatic missions overseas have also expressed concern about the reputational impact of this "upselling" of AVS, particularly considering this may be the first interaction an individual has with the UK immigration system.

"Its sole focus is income generation. The human aspect is not at all valued," one British Embassy whistleblower told the chief inspector.

The whistleblower added: "There are applicants being persuaded to buy unnecessary additional services at the [visa application centres]… The most recent contract with external commercial partners has meant that it is through 'upselling' these additional services that partners make their money."

A British man who fled Kyiv with his Ukrainian family told openDemocracy he had been given a waiting time of 13 days for a visa appointment at TLSContact's Budapest centre.
So how much does TLSContact get paid for their 'services'?
It turns out that its parent company, Teleperformance Ltd, was awarded a £167m contract by the Home Office in 2014 to run the UK's visa centres across Europe under the TLSContact brand.
And if you think that name rings a bell, then it should: The company was also paid nearly £259m by the UK Department of Health to run call centres for its dysfuntional Test and Trace programme during the pandemic.
It'd be nice to think that this was just an outlier, but actually it's the new normal for a British state whose capacity has been hollowed out by decades of neoliberal outsourcing of critical tasks to private corporations.
---
My commonplace booklet
Cognitive Dissonance Rules OK
I sometimes think that the biggest single problem with us humans is our capacity for cognitive dissonance — the ability to believe two (or more) contradictory things at the same time. For example:
A recent Pew survey reveals that a majority of Americans want to be carbon neutral but are unwilling to back the economic and political steps needed to achieve that.

Likewise many if not most Internet users say they are worried that their privacy is being undermined by social media. But they continue to use said media. When challenged, they shrug and say they don't have any alternative.

Similarly, the claim that nobody who learns how animals are slaughtered for human consumption would ever eat meat again seems to be false.

People (including British ex-pats) who voted for Brexit are infuriated when it turns out that their freedom to own houses and take vacations in the EU is severely curtailed.
And so on and so on.
As they say in Yorkshire: There's *nowt so queer as folk.*
(Oh — and since you ask, I too suffer from cognitive dissonance.)
---
This Blog is also available as a daily email. If you think that might suit you better, why not subscribe? One email a day, Monday through Friday, delivered to your inbox. It's free, and you can always unsubscribe if you conclude your inbox is full enough already!
---