This is interesting — Google Flu Trends…
We have found a close relationship between how many people search for flu-related topics and how many people actually have flu symptoms. Of course, not every person who searches for "flu" is actually sick, but a pattern emerges when all the flu-related search queries from each state and region are added together. We compared our query counts with data from a surveillance system managed by the U.S. Centers for Disease Control and Prevention (CDC) and discovered that some search queries tend to be popular exactly when flu season is happening. By counting how often we see these search queries, we can estimate how much flu is circulating in various regions of the United States.
There's a nice animation on the site showing how official health data lags Google searches.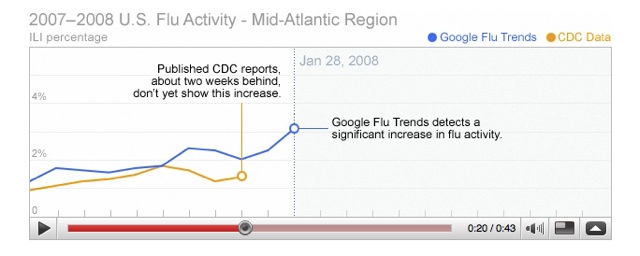 The NYT has a report on this today.
Excerpt:
Tests of the new Web tool from Google.org, the company's philanthropic unit, suggest that it may be able to detect regional outbreaks of the flu a week to 10 days before they are reported by the Centers for Disease Control and Prevention.

In early February, for example, the C.D.C. reported that the flu cases had recently spiked in the mid-Atlantic states. But Google says its search data show a spike in queries about flu symptoms two weeks before that report was released. Its new service at google.org/flutrends analyzes those searches as they come in, creating graphs and maps of the country that, ideally, will show where the flu is spreading.

The C.D.C. reports are slower because they rely on data collected and compiled from thousands of health care providers, labs and other sources. Some public health experts say the Google data could help accelerate the response of doctors, hospitals and public health officials to a nasty flu season, reducing the spread of the disease and, potentially, saving lives.

"The earlier the warning, the earlier prevention and control measures can be put in place, and this could prevent cases of influenza," said Dr. Lyn Finelli, lead for surveillance at the influenza division of the C.D.C. From 5 to 20 percent of the nation's population contracts the flu each year, she said, leading to roughly 36,000 deaths on average.