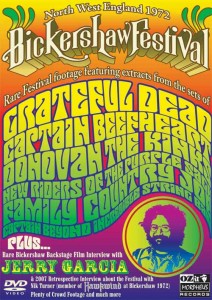 My Observer column on Sunday about the perceptiveness of the Grateful Dead has triggered fond memories in some readers — and stimulated some lovely emails, including this one from a colleague:
In 1972 I was one of the organisers of a big music festival in a place called Bickershaw near Wigan. The Dead were top of the bill and during contract negotiations with them, we were amazed that we had to provide a central area to accommodate anyone who wanted to record their gig. They had realised as early as 1972 that they could give away poor quality recordings, knowing that many would then go out and buy the real thing. I believe they were the largest earners amongst R&R bands for many years. I hung out with Jerry Gracia for a bit and he was very stoned but also very smart.

An interesting footnote – the main festival organiser was one Jeremy Beadle. He wasn't famous yet but had already started to assume his annoying persona. I think he was the only person at the festival who wasn't stoned, but he was also very smart and went on to make made lots of money.
There's a web site for the aforementioned festival too. Gosh! Those were the days.