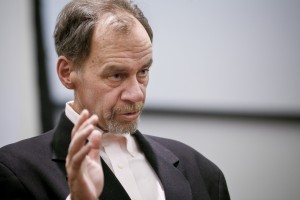 David Carr, the New York Times Media reporter and columnist, is dead, at the age of 58. At the end of the paper's obituary is this quote:
"I now inhabit a life I don't deserve," Mr. Carr wrote at the conclusion of "The Night of the Gun," "but we all walk this earth feeling we are frauds. The trick is to be grateful and hope the caper doesn't end any time soon."
The caper ended yesterday, when he collapsed suddenly in the office.
He was one of the best, wisest and nicest journalists I've ever had the privilege of knowing. I will miss his (croaky) voice, his integrity, his humanity. He had been to the edge of the abyss of drug dependency, and came back — to make the world a better and more intelligible place. May he rest in peace.
See him in action here:
LATER Jack Shafer wrote this on Politico:
In a business over-populated with characters, Carr projected an original persona that was one part shambling hipster, one part Tom Waits, a pinch of Jimmy Breslin, and a dollop of the Mad Hatter. A master interrogator, he used his guise the way an anglerfish uses the wriggling growth on its head to attract and then devour other fish. Interview subjects who paid attention to Carr's jittery gestures and boho-lingo, thinking him a harmless eccentric, found afterwards that he'd picked their pockets for information.

Nobody seems to know when Carr became Carr, the enigma who spoke in an infectious code, not even Burl Gilyard, a Minnesota journalist of my acquaintance who met him in 1990 and later worked for him in 1993 at the alt-weekly Twin Cities Reader. Gilyard maintains that Carr was "always like that." If you asked him how he was doing, he'd shoot back, "Workin' hard, getting' lucky." Always ambitious and ever the ham, Carr had a way of bee-lining for the spotlight, even low-wattage ones like the one flung by this 1984 Minnesota public-access talk-show about local news—decades before becoming a New Yorker and a regular guest on Charlie Rose, BBC America, ABC News, CNN, MSNBC, PBS NewsHour, and other TV venues. From the beginning, he gave good soundbite, tossing off ad hoc paragraphs that lesser writers would have hoarded for a print piece later. He had that sort of confidence only a few writers possess: No matter how badly he abused her, the muse would always serve him.
And see also the collection of rememberances curated by Greg Marx in the Columbia Journalism Review.