An opening…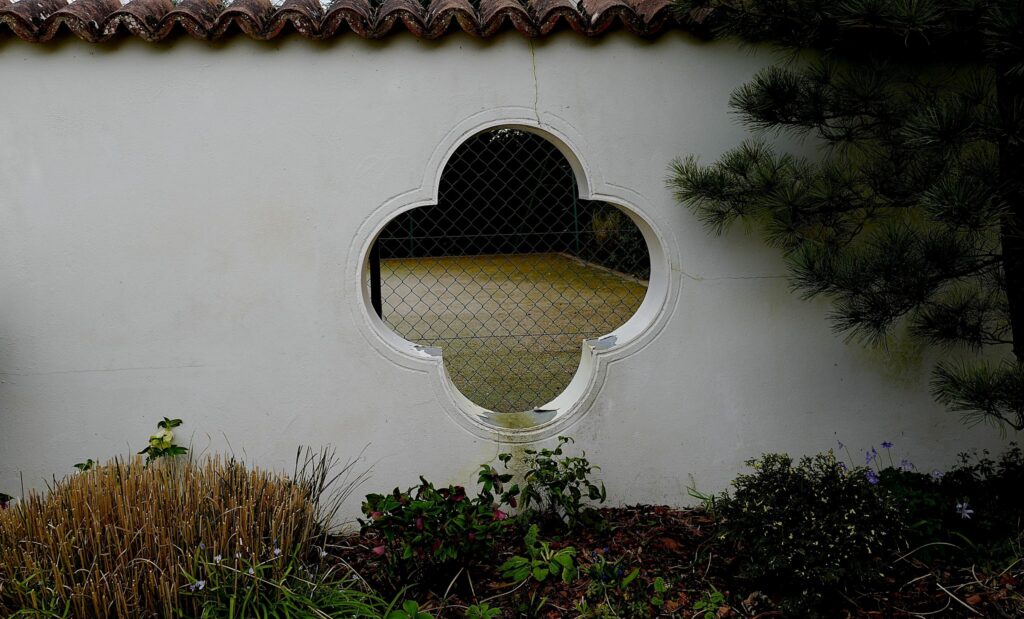 … onto a tennis court, as it happens.
---
Quote of the Day
"In Hollywood when people die they don't ask 'Did he leave a will?' But 'Did he leave a Diary?'"
---
Musical alternative to the morning's radio news
Music for Imbolc (St Brigid's Day)
Imbolc is one of the four ancient Gaelic seasonal festivals. It marks the beginning of Spring. The others are Bealtaine, Lughnasadh and Samhain. Needless to say, the original festival was appropriated by the Catholic Church and allocated to St Brigid.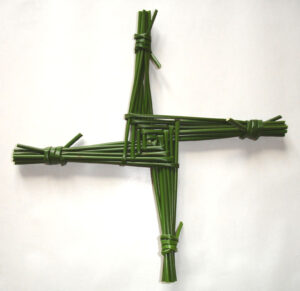 Photograph by Culnacreann (on a CC-by licence)
When we were kids we learned how to make 'St Brigid Crosses' out of rushes, of which the damp pastures of rural Ireland had a plentiful supply.
Many thanks to Pam Appleby for the link.
---
Long Read of the Day
Britain's posh cliques
I've always liked George Orwell's observation that England (by which I think he meant Britain) is "a family with the wrong people in charge". Right on cue comes this sharp column by John Harris.
A country in deep crisis ought to at least have a government capable of governing; it is post-Brexit Britain's unlucky fate to be run by an administration in a similar state of breakdown. The Tory party chair, Nadhim Zahawi, has been found to have committed a serious breach of the ministerial code and finally sacked. The investigation into bullying accusations against Dominic Raab, the deputy prime minister, is yet to conclude. Meanwhile, the latest story centred on Boris Johnson grinds on.

If it was a play, it would sit awkwardly between thriller and farce, with characters that were well drawn, and well connected. Johnson, we know: the financially incontinent prime minister who desperately needed an £800,000 "credit facility". Then there is Sam Blyth, a "distant cousin" of Johnson and founder of a chain of Canadian private schools, apparently persuaded to be the then prime minister's loan guarantor. The cast is completed by Richard Sharp, the former banker and Tory donor who is now the chair of the BBC, and Simon Case, Britain's most senior civil servant. Questions now swirl around Sharp's alleged dealings with the other three, in the weeks and months before he was appointed to his role at the BBC. Last Monday, Johnson said that Sharp "knows absolutely nothing about my personal finances – I can tell you that for ding-dang sure". Over the weekend, the Sunday Times published a leaked letter reportedly handed to Johnson by Case: "Given the imminent announcement of Richard Sharp as the new BBC chair," it said, "it is important that you no longer ask his advice about your personal financial matters." We now await enlightenment about how both these things could possibly be true.
It gets worse (if that's possible):
The context for these tragedies remains as brazen and appalling as ever: at the last count, two-thirds of senior judges were privately educated, along with 51% of what the Sutton Trust charity calls "leading journalists", and 52% of foreign office diplomats. The figure for Sunak's cabinet is 65%.
---
The NYT is beginning to smoke its own exhaust
Nice Politico column by Jack Shafer.
Defying the journalistic maxim that reporters should never be the story, "The Story Behind the Story" frequently chronicles the mundane mechanics of assembling the Times. Recently, the space has featured a first-person piece by a Times reporter about how she got her story about the things people stand in line for these days; how its book critic read and reviewed Prince Harry's Spare in a day; how its reporter found sources for a piece about young people and personal finance; how its reporter covered the recent 5.6 magnitude earthquake in West Java; inside commentary on the paper's crossword; a profile of the paper's photography department; and a profile of a food-truck proprietor who vends on the street outside the Times' offices.

Other days the feature runs Q&A's with reporters in which they regurgitate the facts they've already conveyed in published pieces about classified documents, Ticketmaster, and the recent German coup plot. (Some of these Q&A's are double-dribbled from the Times' "The Daily" podcast.) Then there have been retrospectives on the influence of the paper's "Snow Fall" feature from 10 years ago and a history of the guest book at Times headquarters. It would be one thing if any of these pieces broke ground or were great reads, but they don't and they aren't. Most days' entries have that tossed off quality that passes for insight when applied to podcasts. The reading experience is like soaking your brain in brackish well water. Perhaps nobody has ever attacked these columns because nobody ever reads them.
He's sharp, is Jack. He's picked up a whiff of what's been happening to the Times. Some of its political reporting in the last few years has become lazy. And its current reporting of the 'discoveries' about classified documents in Joe Biden's garage reminds me of its irresponsible reporting of the leaking of Hilary Clinton's emails in 2016. What's happening is that the success of its subscription model is making the paper pathologically attentive to what its subscribers will like rather than what good, detached journalism should provide.
---
My commonplace booklet
Splash down! Lion cubs leap across swollen river Link
Cute, eh? Just wait until they grow up.
---
This Blog is also available as a daily email. If you think that might suit you better, why not subscribe? One email a day, Monday through Friday, delivered to your inbox. It's free, and you can always unsubscribe if you conclude your inbox is full enough already!
---