Quote of the Day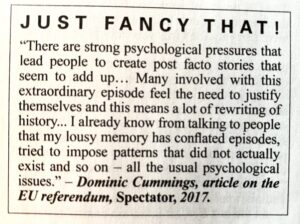 Current issue of Private Eye
---
The government has suddenly twigged that the no-deal Brexit it's carefully arranging will mean drugs shortages.
Every day, I wake up thinking that the incompetence of the Johnson administration can't get worse, and every day it does. Now the FT reports that the government is struggling to rebuild stockpiles of drugs eroded by Covid-19 amid fears that a "no-deal" Brexit will jeopardise medicine supplies just as a second coronavirus wave hits the country.
It seems that Matt Hancock, the health secretary, "has accepted the need" to finalise a formal plan to rebuild a six-week stockpile of drugs. Well, that's a start, anyway. But…
The combination of stockpiles being depleted during the Covid-19 pandemic, the disruption to international production of generic drugs in India and China, and the risks of a second wave interrupting global supplies this year had raised "huge concern" in the top levels of the health department, the Whitehall official added.
With the pharmacy industry apparently indicating that it will be unable to replicate the stockpiles built last autumn, the government faces the prospect of trying to secure supplies through global procurement at a time when markets are already tight.
"Industry is saying that all last autumn's stock has run down during Covid and the department now thinks it looks doubtful stockpiling can be industry-led, as per last time, so the government is looking at its own options too," the official said.
Standby by for another Hancock triumph, along the lines of his inability to secure supplies of PPE because he started too late.
Interesting factoid: Hancock read PPE at Oxford, but apparently that degree programme doesn't have anything in it about actual PPE.
---
Levels of public trust in government Covid information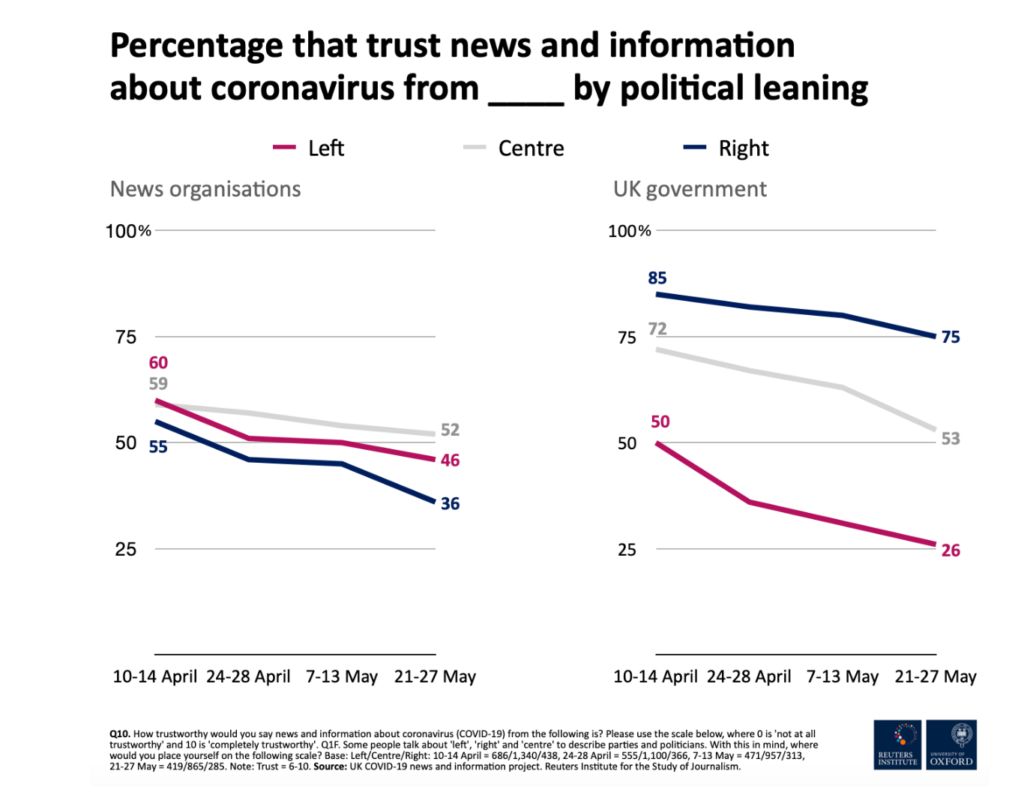 From the Reuters Institute for the Study of Journalism.
---
Trump's ludicrous biblical photo-op, and its consequences.
I mentioned this in yesterday's Quarantine Diary.
It was brilliantly covered on the New York Times's podcast The Daily. A must-listen IMHO (it's about 28 minutes)
And then read former Defense Secretary General Mattis's condemnation of the stunt in The Atlantic, in which he says, in part:
When I joined the military, some 50 years ago," he writes, "I swore an oath to support and defend the Constitution. Never did I dream that troops taking that same oath would be ordered under any circumstance to violate the Constitutional rights of their fellow citizens—much less to provide a bizarre photo op for the elected commander-in-chief, with military leadership standing alongside."
---
How Facebook can fix itself
(Except of course that it won't because its omnipotent boss thinks Facebook is doing just fine. And it needs to keep on the right side of Trump. This may be a good idea in terms of revenues between now and November 4. After that, perhaps less so. See my forthcoming Observer column on Sunday for more detail. )
In the meantime here's a well-meaning piece from a former employee of the company.
If you think of Facebook as the place where people get their information, it's like the one grocery store in a town. Everyone shops there and its shelves are mostly filled with food that is nutritious, fun, entertaining, engaging, and so on. However, sprinkled through the shelves are foods that look like regular stuff but are actually poison. I'm not talking about junk food with frivolous or empty calories. I'm talking about food that literally poisons one's mind, turning him or her against science, facts, and other people. If you accept that there's poison among the aisles, would you spare any resources to root it out? Are there any risks you would not take? At the very least, you would not hesitate to put warning labels on the poison.
Sweet, isn't it. And his remedy for Facebook's toxic behaviour? The company (by which he means Zuckerberg) needs "to build trust".
You need to show the world that you are not putting profit over values. Therefore, I would suspend the stock buyback program. As I mentioned, you've committed ~$34 billion to stock buybacks. It looks like you've spent about $20 billion. That's $14 billion left (please check my math). I'd devote the equivalent resources toward realizing the goal of better informing users. You'd be showing that you're literally choosing users over profit.

What's the metric? I don't know, but I have confidence that you can figure it out. You have swung the pendulum all the way toward enabling expression. Let's move it toward the quality of information, or an outcome of an accurately informed public. Success on this would be infinitely more valuable to your investors than artificially propping up the stock with buybacks.
He forgot to add the motherhood and apple pie.
__________________________________ 
The Dominic Cummings eyesight-test-game
From the FT: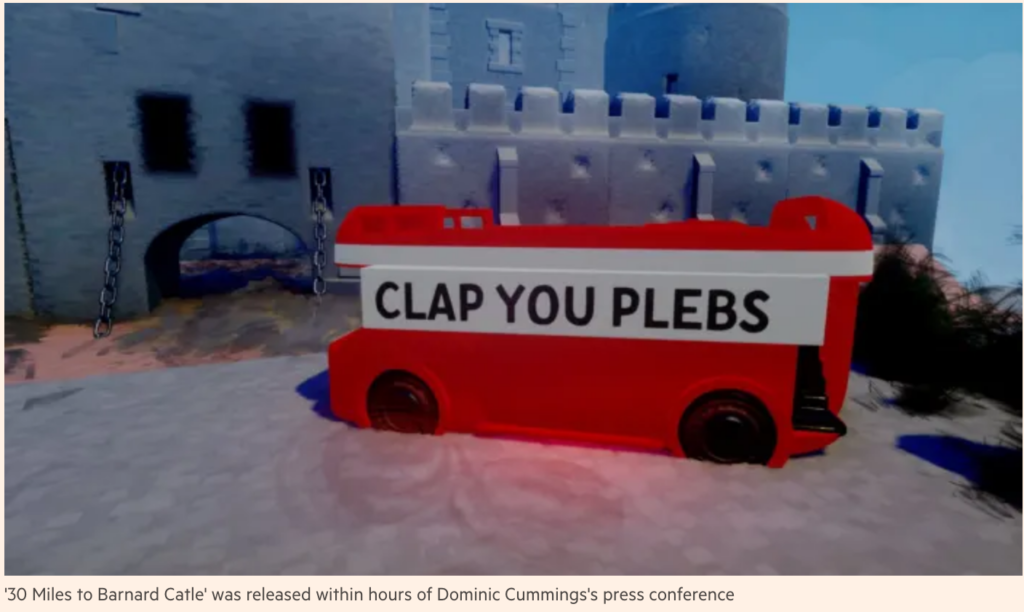 "Dominic needs to get back to work," the game instructs, "but his eyes have went all weird. Best drive to Barnard Castle with his kid just to make sure it's safe to drive to London." And so I find myself driving along an obstacle-strewn country road towards a distant castle. It's difficult to concentrate because my character's vision keeps fogging over and he won't stop coughing. An imperious child screams at me from the back seat. I finally arrive, passing a double-decker bus displaying a banner that reads "Clap you plebs". As I steer through the castle gate, a victory message pops on to the screen: "Your eyesight is fine."

30 Miles to Barnard Castle was released on the game-creation platform Dreams just hours after Dominic Cummings, the UK prime minister's chief adviser, held a press conference where he addressed his controversial trip from London to Durham under lockdown. It's a smart example of video game satire, addressing a topical subject by subverting familiar driving game tropes. In asking players to become Cummings behind the wheel, the game elegantly underlines the most farcical aspects of his story.
Lovely stuff. Video-game authors have a sense of humour too. Who knew?
---
Quarantine diary — Day 75
---
This blog is also available as a daily email. If you think this might suit you better, why not subscribe? One email a day, delivered to your inbox at 7am UK time. It's free, and there's a one-click unsubscribe if your decide that your inbox is full enough already!
---