Well, well. Dave "Vote Blue to get Green" Cameron and his chaps travel in style: they go in 'Lord' Ashcroft's Falcon jet ($30 million secondhand).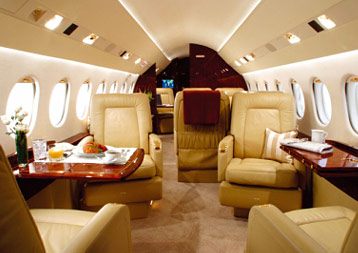 Altogether shadow cabinet ministers and aides have flown 184,000 miles on the Ashcroft jet over the last five years with Andrew Mitchell, the shadow international development secretary, flying 65,453 miles and shadow foreign secretary William Hague flying 49,670 miles.

Analysis conducted for the Guardian reveals that Tory globetrotting has racked up 1,289 tonnes of carbon emissions. The biggest footprint was made by Michael Ancram when he was shadow foreign secretary and shadow defence secretary, according to environmental consultants Carbon Footprint. Mr Ancram's flights emitted 372 tonnes, including trips to Cuba, Afghanistan, Egypt and Poland. The plane's movements are being tracked by planespotters who logged it leaving Luton empty to fly to Khartoum to pick up Mr Cameron and return him to Britain. Indeed spotting the Ashcroft jet seems to have become a bit of cult on spotter blogs.
It would be churlish to complain about all this privileged transport, given Dave's understandable pride in his privileged background. But there is still the small matter of Parliamentary declarations.
Mr Hague declares a trip on Lord Ashcroft's jet to Belize, Brazil, the Falklands, Iceland and Panama as being worth £8,486, the equivalent of flying first-class. Yet to hire a Falcon with Premier Aviation would cost £55,000 for a one-way trip to New York alone.

Labour MP Tom Watson said: "There appears to be a huge discrepancy between, say, David Cameron's declaration of £16,000 for the cost of his trip to Darfur and the cost of hiring a similar jet from a commercial firm. I got a quote of over £100,000 to hire a jet to go to Khartoum."
If you're interested in travelling Cameron-style, get the latest fares here.