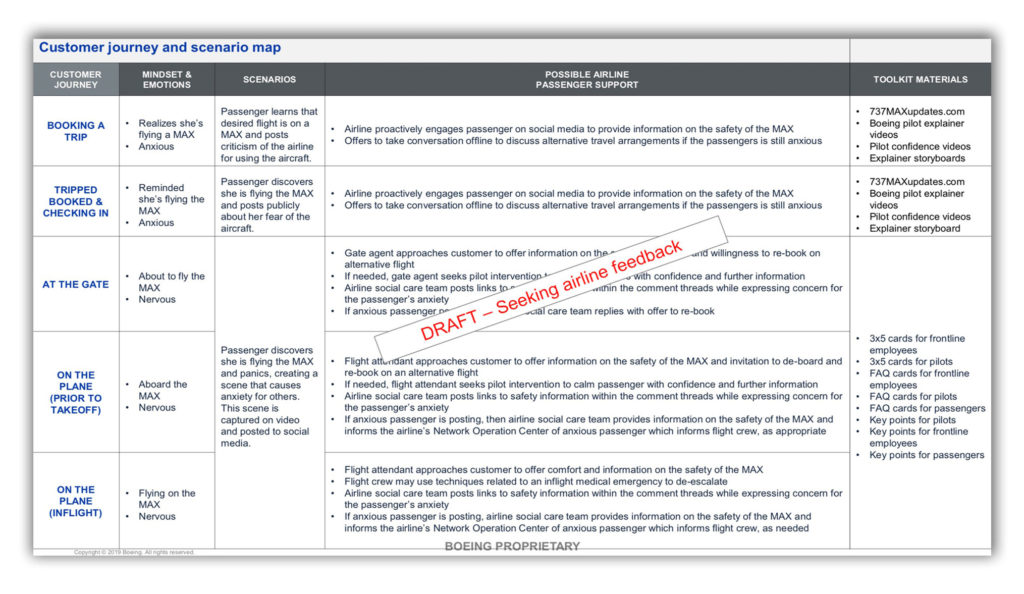 Source: New York Times
Boeing's 737MAX remains grounded (rightly) as the company struggles to overcome the design flaw that caused two crashes that killed everyone on board. In the meantime, Boeing has been surveying airline passengers across the world to assess their thoughts about flying in the MAX once it gets certification. The news is not good, according to this report in the New York Times: people are nervous about flying in the plane. In order to get ahead of the problem, Boeing has been preparing draft briefing materials for airline staff giving guidance on how to soothe and reassure nervous passengers. Above is a draft of the crib-sheet that's been obtained by the Times.
As you'd expect, it's an exercise in consumer manipulation.
This has a personal dimension for me. The place to which I most often fly is Ireland. And the only way to get there from Stansted, my local airport, is via RyanAir. But RyanAir plans to replace its existing fleet of Boeing aircraft with 737MAXs. So will I trust the Federal Aviation Administration enough to continue flying RyanAir? Or will I have to plump for much less convenient alternatives?
Hmmm…