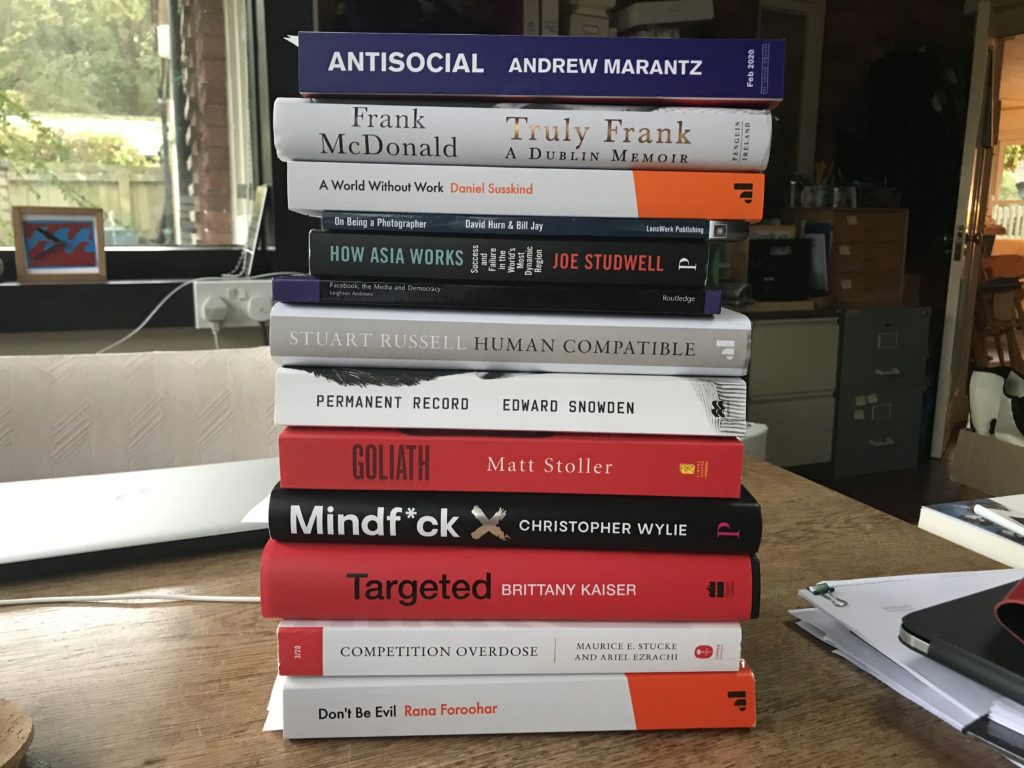 In one of my periodic attempts to impose order on my study I rounded up all the books I have been
reading
reviewing
need to read for work
want to read for pleasure
And, having done so, wondered about my sanity.
From the top down…
Antisocial: Online Extremists, Techno-Utopians, and the Hijacking of the American Conversation by Andrew Marantz. Just arrived yesterday. Described by Jaron Lanier as "a close-up portrait of the new species of online shock artists who have taken over the American conversation". I was going to say that I'm looking forward to reading it, but perhaps it'd be more honest to say that I'm gritting my teeth because it's something I have to read for work.
Truly Frank: a Dublin Memoir by Frank McDonald. This one is purely for pleasure. Frank was one of the great journalists on the Irish Times, is an old friend and was a Wolfson Press Fellow back in the day.
A World without Work: Technology, Automation and How We Should Respond by Daniel Susskind. This one is for work but won't be out until January. I'll probably review it.
On Being a Photographer: a practical guide by David Hurn and Bill Jay (Lenswork Publishing, 2009). This is a book I should have known about but didn't until a fellow-photographer told me about it a few weeks ago.
How Asia Works: Success and Failure in the World's Most Dynamic Region by Joe Studwell, recommended to me as a must-read by Nicholas Colin, who I've always found to be a terrific source of ideas. This is to fill one of the numerous gaps in my knowledge of the world.
Facebook, the Media and Democracy: Big Tech, Small State? by Leighton Andrews. An interesting monograph on a topic I often write about.
Human Compatible: AI and the Problem of Control by Stuart Russell. One of the best books about AI that I've read. My review of it for the Literary Review is here
Permanent Record by Edward Snowden. Terrific memoir, which I reviewed for the Observer.
Goliath: The 100-year war between Monopoly Power and Democracy by Matt Stoller. Just arrived. I'm looking forward to reviewing it.
Mindfu-k: Inside Cambridge Analytica's Plot to Break the World by Christopher Wylie. Terrific account by a geek who was an insider on how data analytics influenced Brexit and the 2016 Presidential election. I've reviewed it alongside Brittany Kaiser's book Targeted: My Inside Story of Cambridge Analytica and How Trump, Brexit and Facebook Broke Democracy. Review will be out on Monday 28 October.
Competition Overdose: How Free-market Mythology Transformed Us from Citizen Kings to Market Servants by Maurice Stucke and Ariel Ezrachi. Maurice and Ariel wrote a terrific book *Virtual Competition: the Problems and Perils of the Algorithm-driven Economy a few years back. When they told me they were contemplating a critical book on competition, I urged them on. Now they've done it, much to my admiration and delight. This is an advanced proof which I'm currently enjoying. Publication date is April 2020.
Don't Be Evil: The Case against Big Tech by Rana Foroohar. I'm reviewing it for the Observer.