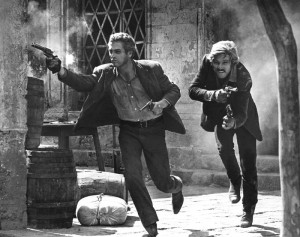 AOL's purchase of the Huffington Post has got everyone excited. Except me and the inimitable Om Malik. He reports that AOL CEO Tim Armstrong wants AOL home page to be the start page for information. But, says Malik, it ain't going to happen. The world of today doesn't work that way. People have their favorites and start their news day at random places.
AOL's moves are much like the ending scene from Butch Cassidy and The Sundance Kid. Surrounded by the Bolivian Army, Dos Hombres have no choice to make a gallant dash to their horses, guns blazing, hoping against hope as thousand guns blaze around them. The ever-increasing web inventory is like the Bolivian Army firing on AOL and others who have not yet come to terms with the futility of chasing page views.

Despite what you might read in the newspapers and blogs, AOL is still in A-O-Hell. In the most recent quarter, the company saw its advertising revenues go down 29 percent, at a time when online advertising grew about 14 percent. According to eMarketer, its share of total online display advertising was down to 5.3 percent in 2010 from 6.8 percent in 2009.
It's funny how stuff gets laid down in corporate DNA and is then impossible to shift. AOL started out as the ultimate 'walled garden': it thought it would be able to keep its subscribers corralled inside rather than venturing out onto the Wild West Web. The fantasy about becoming the start page for today's Web is a reflection of the same mindset.