I'm not a football fan, but if you read British newspapers it's impossible to avoid the subject. Tucked away in the avalanche of lachrymose coverage of Newcastle United's relegation from the Premiership I found a fascinating factoid which captures the essence of the economic lunacy of the football business: Newcastle has 15 players earning more than £50,000 a week; and none of their contracts has a relegation clause. To my (non-lawyer's) mind, this sounds as though the club is committed to paying them even though it's now lost the television income that makes such crazy remuneration possible.
Then came Wednesday evening and Barcelona's delightful victory over Manchester United. For me, the most interesting comparison lay in the two team's shirts. Note the main logo on the Barcelona kit: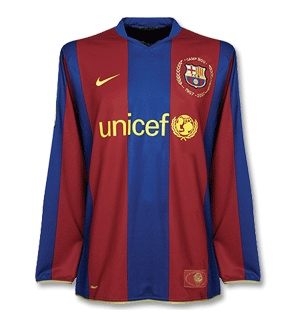 It turns out that Barcelona gives £12 million to Unicef every year. That's right: gives.
Compare this with Manchester United's kit: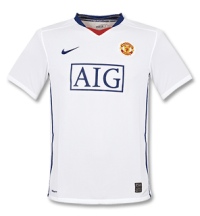 The club's main corporate sponsor is the insurance company at the heart of the banking meltdown — the one that had to be rescued by the US government. Tells you everything you need to know about the English Premiership, really.
LATER: Dave Boyle (Whom God Preserve) emailed to alert me to Dave Conn's fine article in the Guardian. Excerpt:
Manchester United versus Barcelona is a dream final for the romantic, two great clubs sharing traditions of skill and panache – yet the broader values they embody seem now to spring from opposing visions of the sport. On one side of Stadio Olimpico tomorrow will be Barça, "mes que un club" – more than a club – as the Catalan institution proclaims itself, bearing Unicef on the shirts, owned by 163,000 members. On the other will stand the famous Man United, soaked in history and tradition with AIG, the ultimate symbol of reckless financial speculation on their chests, and owned by the Glazers.

The contrasts appear so clear as to be blinding. Barça, who cannot be bought and whose president must stand for election by the fans; United, taken over against the wishes of the fans and the board itself by the Glazer family, who have loaded the club with around £700m of debt and own it, via a thicket of companies, in the low-tax US state of Nevada. Barça, flagbearers for the idea that a football club is a home of belonging; United, epitomising the English belief that the free market, and billionaires, must rule even sport.

Barcelona's vice-president Alfons Godall, who fought the campaign with Joan Laporta democratically to oppose the old president, joined the board after Laporta's 2003 election. He maintains the club's reality is as virtuous as it will appear on the surface tomorrow. "I believe ours is the best model, an example to England," Godall says. "We are free. We do not depend on a Mr Abramovich. We want to be successful but also to have meaning, social values. I am sure fans of Manchester United, Liverpool, Chelsea and Arsenal would like to be in our situation. But they have passed the point of no return; they are customers, not members."